Power Outage 2012
A major underground electrical cable, installed in the early '70s, failed at approximately 2:00 a.m., February 29, 2012 at the St. John's Campus residence complex area.
This affected power distribution to 10 Paton College buildings, 6 Burton's Pond Apartment Buildings, and the Campus Childcare Centre. Approximately 1,394 students (882 Paton College, 512 Burton's Pond Apts.) were without heat and light, and 184 children were impacted by the closure of the Child Care Center. The university's food services program, provided by Chartwells at the Main Dining Hall, was also impacted, necessitating the provider to complete food preparation at two of its other venues-Confederation Building and the St. John's Airport.
In responding to this problem, the university had to cut the power to the nearby Arts and Culture Centre resulting in rescheduling of their events. There was also additional damage in Hatcher House due to flooding of the underground mechanical room, as a sump pump failed due to the primary electrical incident. On March 1, there were also plumbing problems at the Blackall residence.
The university also encountered a water main break creating additional problems for the electricians in the manhole where the electrical cable connections were located and needed repair. Although FM personnel were able to restore plumbing and temporary electrical repairs by March 1, the problem with the cable reoccurred on March 2. At 3:00 pm on March 2. Upon a recommendation from the Director of Facilities Management, the Director of Emergency Operations declared a Level 2 emergency, activating appropriate members of the Campus Emergency Response Team (CERT).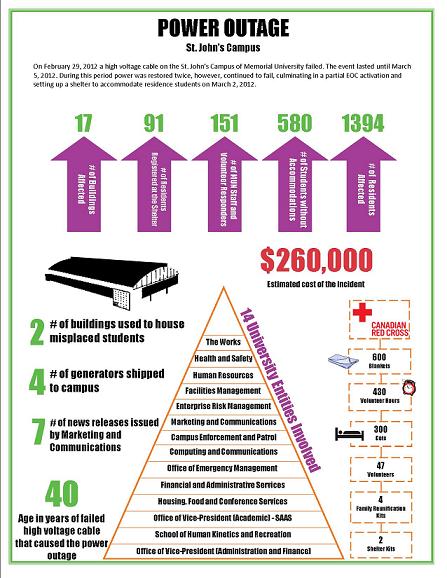 Click here for a larger version of the Infographic