MUN Safe Work Alone Feature
NL OHS Regs, Section 15 defines working alone or in isolation as circumstances where assistance would not be readily available to the worker:
(a) in case of an emergency; or
(b) in case the worker is injured or in ill health.
In general, employees should not work alone in any situation involving the use of hazardous materials, high voltage, confined spaces, or other high hazard activities.
Where a worker is assigned to work alone or in isolation, the employer/supervisor shall conduct a risk assessment. The assessment must identify potential hazards and mitigation measures required to eliminate or minimize the hazards before the worker is to work.
The worker and supervisor should also develop as a part of their work alone plan, a communications strategy. This will ensure that in the event the worker is injured or incapacitated in any way that they will receive assistance.
The MUN Safe app now has a tool that will assist workers, students and supervisors to develop an effective working alone protocol.
Here's how it works:
1. Select the Work Alone button in the app.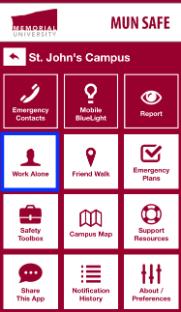 2. Fill out all fields with the personal and emergency contact information, the length of the work alone session and the check in frequency.
Please Note: Always ensure that the emergency contact is aware that you have initiated a work alone session. This will ensure they are available to answer a call.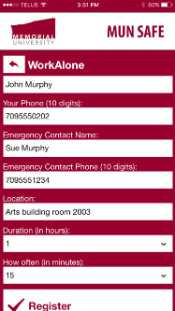 3. "Register" the Work Alone session. The app will send a push notification at the frequency selected. Example: If the work alone session is for 3 hours and the check in frequency every 30 minutes, then the app would a push notification every 30 minutes for 3 hours.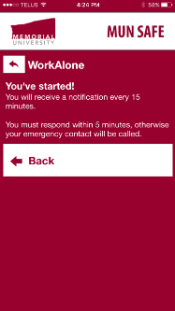 4. When the app sends a push notification, it will ask to "check in". If the worker checks in to confirm they are okay, then the app will not contact the emergency contact assigned within the app. If the worker ignores or doesn't reply to the check in within a 5-minute period, the app will make a call to contact the worker's emergency contact.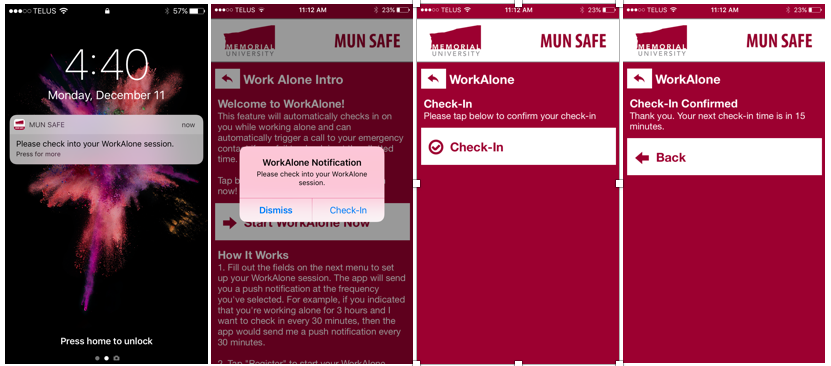 5. The emergency contact that receives the call has the option to call the worker back by hitting "1" to check on them, or to call campus safety services by hitting "2" (or hang up and call 911 or another local authority). Campus safety services is available for emergency assistance 24 hours a day 7 days a week. If the emergency contact is off campus this might be the fastest way to get emergency assistance. If the emergency contact is notified the worker will receive a push notification.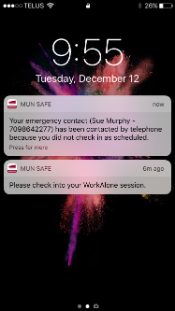 If all notifications are acknowledged, the worker simply continues to work alone and their Work Alone session ends as scheduled.
6. You can also end your Work Alone session by entering the Work Alone section and selecting "Cancel Work Alone Session".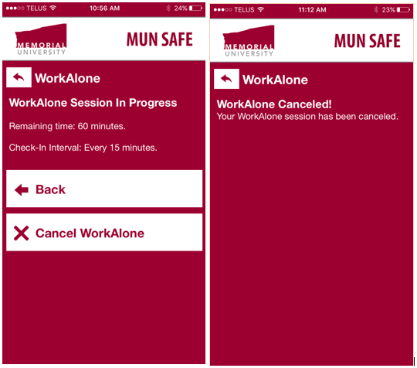 Here is a quick video which shows the basics of the Work Alone feature.
To share information about the Working Alone feature within your department here are some additional resources:
Working Alone Safety Moment pdf - St. John's Campus
Working Alone Safety Moment pdf - Grenfell Campus
Working Alone Safety Moment pdf - Marine Institute
Working Alone Safety Moment pdf - Labrador Campus
Working Alone Safety Moment - PowerPoint