Science hands out recognition
Oct 7th, 2011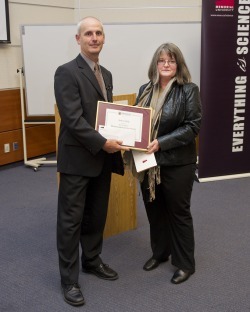 Science hands out recognition
The Faculty of Science celebrated its best and brightest at an awards ceremony on Oct. 5. Dr. Mark Abrahams, dean of science, presented the Dean's List award, which recognizes the top 10 per cent of students in the Faculty of Science.
"This year, it required an average of approximately 83 per cent or higher to reach the dean's list," said event host Dr. Andy Foster, associate dean of science. "That's quite a significant achievement."
Dr. Gary Kachanoski, president and vice-chancellor of Memorial University, attended the ceremony and presented the Lou Visentin Award. This award recognizes the outstanding achievements of students graduating with a B.Sc. or B.Sc. (hons.) degree named to the Dean's List for four consecutive years. It is the highest award for undergraduate academic achievement in the Faculty of Science.
Dr. David Wardlaw, vice-president (academic) was also present and handed out the Dean of Science Book Prize, which is awarded on the basis of academic excellence to a student in each department offering a B.Sc. program.
In addition to recognizing student academic achievement, the ceremony also honoured faculty and staff. Dr. Abrahams celebrated the outstanding and sustained contributions, particularly in the areas of teaching and research, of Dr. Graham Bodwell, Department of Chemistry. While presenting him with the 2011 Distinguished Scholar Medal recipient, Dr. Abrahams said Dr. Bodwell is widely recognized in his field.
"Dr. Bodwell has excelled as a teacher at all levels, and has been particularly influential as a research supervisor for numerous undergraduate and graduate students," the dean said. "He has an almost unique ability to inspire students with his enthusiasm and love of chemistry. Graduates from his research group have been very successful and it is clear that they highly value the experience of working with him."
Prof. Bodwell's research focuses on the synthesis and properties of novel aromatic compounds that are of both practical and theoretical interest. He is currently developing synthetic methods that produce segments of important new forms of carbon such as fullerenes and carbon nanotubes, materials which have unique properties and wide ranging applications in science and engineering.
Dr. Abrahams also presented the Distinguished Service Award to Roberta (Robbie) Hicks of the Department of Earth Sciences. The award recognizes service superior to that normally expected of staff members.
Reading from her citation, the dean said Ms. Hicks is considered one of the reasons why enrolment in the department has risen steadily over the past 10 years. Her first-year labs receive high praise from students and her engaging departmental tours have likely inspired visiting youth to consider a career in science.