Memorial tied to Blackwood retrospective
May 30th, 2011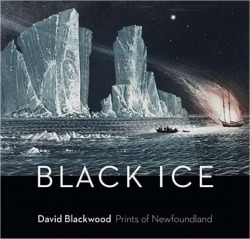 Memorial tied to Blackwood retrospective
What does a geologist know about art? If you're like most, your first response is likely – 'Very little.'
It would surprise you, then, to know that an essay by two geologists has been published in Black Ice, an illustrative retrospective featuring over 70 prints spanning 40 years of the artist David Blackwood's work.
Dr. Blackwood, who has received an honourary Doctor of Letters from Memorial University, is one of Canada's most popular artists. His work has been telling stories about Newfoundland for decades, capturing slices of life in the province and the strength of the people who have chosen to call it home. His scenes often depict a struggle to survive the brutality of nature in one of the "most exposed and hostile environments on earth."
The book, which was published by Douglas & McIntyre to accompany an Art Gallery of Ontario (AGO) exhibition of his work, includes a number of essays including a few by individuals with ties to Memorial University: alumni and former Artist-in-Residence, Michael Crummey; Dr. Sean Caddigan, head of the Department of History, and Dr. Derek Wilton, a professor in the Department of Earth Sciences, who co-authored one of the essays with Martin Feely, a senior lecturer in Earth and Ocean Sciences at the School of Natural Hisotry, National University of Ireland, Galway.
Titled Rooted in Granite: The Topography and Geology of David Blackwood's Art, the Wilton/Feely essay delves into the geological significance of the Wesleyville area and how the region's unique environment might have influenced the artist.
"We were first asked to write an essay on the environment, the typography of the area," explains Dr. Wilton. "It just took off and became something about how geology might have factored into David Blackwood's art –what the geology was like there where he grew up. It grew from that and became very interesting."
Mr. Blackwood and his wife, Anita, gave the AGO 242 archival prints in 1999. The book includes pictures, etchings and paintings in addition to the essays.
"It was really a huge honour to be involved in this project," says Dr. Wilton. "I'm a geologist, so some would ask 'What do you have to do with art?' But geology can be artistic too, it is an observational science.
"I get a lot of opportunities at Memorial to do more than just go out and bang on rocks. Really, I've been really fortunate – I've got a great job, and this is a great place to work because I can do things like this. The university encourages and expects it."
David Blackwood was born in 1941 in Wesleyville and received a scholarship to the Ontario College of Art. He has been awarded the Order of Canada in recognition of his ongoing and important contributions to the cultural life and heritage of our country. His work can be found in virtually every major public gallery and corporate art collection in Canada, as well as in major private and public collections around the world.