Dr. John Hanchar receives the Dean of Science Distinguished Scholar Award
Oct 6th, 2014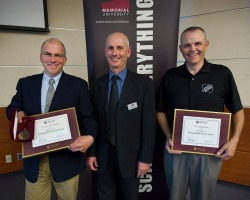 Dr. John Hanchar receives the Dean of Science Distinguished Scholar Award
Tuesday, Sept. 23, as parents, employees and friends joined the Faculty of Science to celebrate student, faculty and staff achievement.
During the event, Dr. Mark Abrahams, dean of Science, named 259 students to the Dean's List, a group comprised of the top 10 per cent of students in the Faculty of Science.
"It was fantastic to see so many parents and friends come out to celebrate these accomplishments," said Dr. Aimée Surprenant, interim associate dean (undergraduate and administration). "We are very proud of our students and it was great to see that pride reflected in the faces of the audience."
Dr. Noreen Golfman, provost and vice-president (academic) pro tempore for Memorial University attend the ceremony and presented the Lou Visentin Award. Named for a former Dean of Science, the award recognizes students who have remained on the dean's list for four consecutive years.
"Only the top 10 per cent of students in the Faculty of Science are admitted to the Dean's List," said Dr. Surprenant. "So it's very competitive and making it is a significant achievement. Depending on the year, a student might need on average 82 or 83 per cent to be admitted to the Dean's List."
The students who received this distinction for the 2013-14 academic year are:
Hannah Albrechtsons (Psychology), Kathryn Bautista (Biology), Jessica Butler (Psychology), Keenan Croucher (Computer Science), Robert Deering (Geography), Amanda Goulding (Biology), Michael Grudich (Physics and Physical Oceanography/Mathematics and Statistics), Brian Harnett (Psychology/Biochemistry), Lauren Jones (Biochemistry), Rahul-dev Kalsi (Biochemistry), Jason LeGrow (Mathematics and Statistics), Justin McGrath (Mathematics and Statistics), Megan Mews (Biology), Hilary Moores (Biochemistry), Peter O'Rielly (Mathematics and Statistics), Anthony Payne (Mathematics and Statistics), Joshua Quinlan (Psychology), Alecia Rideout (Biochemistry), Mark Shea (Biochemistry), Burton Ward (Psychology/Biochemistry), Shannon Waye (Psychology), and Sara Young (Biochemistry).
Dr. Golfman also presented the Dean of Science Book Prize, awarded annually to one student in each department offering a B.Sc. program. It is awarded on the basis of demonstrated academic excellence in the declared major on the recommendation of the head of the department.
The recipients for 2013-14 are: Brian Aylward (Economics), Marwan Barakji (Psychology), Keenan Croucher (Computer Science), Piers Evans (Geography), Devin Grant (Mathematics and Statistics), Maggie Hickey (Biology), Ian Lehr (Biochemistry), Samantha Pomroy (Earth Sciences), Raylene Smith (Chemistry) and Catherine Woodford (Physics and Physical Oceanography).
Dr. Abrahams also took the opportunity to present the Distinguished Service Award to Craig Skinner of the Department of Biochemistry, who began working in the department in January of 1984.
Reading from the nomination letter, Dr. Abrahams said, "Throughout the past thirty years, Craig has not only brought an exceptionally high level of technical ability and knowledge to his work, but has done so in a manner that has been helpful, supportive, and dedicated to everyone he has worked with.
"In his current incarnation, Craig has become the department's technical "Czar." If there is a problem with an instrument or a computer, Craig will know how to fix it, or how to get it fixed. More than one former department head will tell you that Craig is not just a trouble-shooter; he is pro-active in spotting and solving issues before they arise. In carrying out his job, not only has he helped individual faculty members, staff, and students in the department do their jobs, but also in other units of the faculty and the university. His cheerful, friendly, positive attitude, makes the department – and the Faculty – a much better place to work."
Dr. Abrahams also presented Dr. John Hanchar, Department of Earth Sciences, with the Distinguished Scholar Award. He joined Memorial University as professor and head of the department in the summer of 2005.
"Dr. Hanchar is an exceptional administrator, researcher and teacher and since his tenure at Memorial he has unified the department," read Dr. Abrahams from the nomination citation. "He has led the department through a period of renewal and clarification. During his tenure he has led the charge to replace aging teaching and research infrastructure and was critical in securing funding for two NSERC Industrial Research Chairs, the only NSERC IRCs at Memorial.
"Despite being Department Head, Dr. Hanchar has maintained an internationally recognized research program that combines fieldwork, experiments, and high precision analytical methods," added Dr. Abrahams. "He is also a dedicated teacher and mentor and is highly involved in teaching undergraduate and graduate courses, ranging from second year to graduate level. Even though he is head, he carries a load equivalent to many in the Department of Earth Sciences. Furthermore, he has a vibrant research group that includes numerous MSc and PhD students, and he always has a cadre of undergraduate honours thesis students."
Photos from the event are available on the Faculty of Science Facebook page at www.facebook.com/MUNScience.