50 Years of Geophysics at MUN: A Celebratory Reunion
Oct 23rd, 2013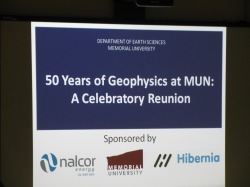 50 Years of Geophysics at MUN: A Celebratory Reunion
On Saturday, 19 October 2013, the Department celebrated the 50th anniversary of the appointment in 1963 of Dr. Ernst Deutsch, as the first geophysics faculty member. Geophysics at MUN grew in the Physics Department over the next 20 years, and then the group merged administratively with the geologists in the new Department of Earth Sciences. Our physical merger occurred with the opening of the Alexander Murray building in 1990.
Around 60 alumni, students, faculty, staff and friends got together for a few hours of talks and reminiscences, with lunch. Technical talks were given by Michael Rochester (Professor Emeritus), Susan Webb and Richard Wright (alumni). Over lunch, Joe Hodych (Professor Emeritus) reviewed the early days of geophysics at MUN, highlighting the group's relationship with the development of plate tectonic theory.
Chuck Hurich took photos during the event (thanks very much, Chuck). The photos can be downloaded from the link here.