Supporting small-scale fisheries
Jul 17th, 2023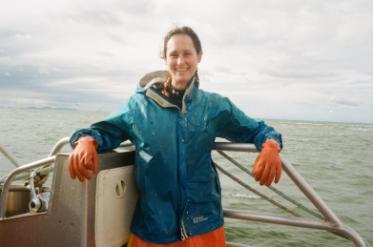 Lillian Saul is an unexpected social entrepreneur.
Her passion began in her work as a commercial fishing deckhand in Maine and Alaska, where she learned about contracting her own labour and being self-employed.
She realized that her own small-scale fishing communities were at risk of disappearing, a fact which concerned her deeply and so, in 2021, Ms. Saul and business partner Nova Almine co-founded Roots and Wings Fish Co.
Roots and Wings Fish Co. is a social enterprise that aims to improve fish prices for small-scale fishing people through creative fish marketing and distribution methods.
"Our mission is to improve the viability of small-scale fisheries and deepen the engagement between consumers and fish harvesters by marketing, distributing and selling fish products," Ms. Saul said.
The goal
Fish harvesters in Newfoundland and Labrador are often in conflict with fish producers and processors. Ms. Saul says harvesters feel as though they have little autonomy and bargaining power in the face of fish merchants.
"Recent years have shown more than ever the fragility of a system where provincial processing is owned and run by a monopoly, which is anti-competitive, and government supported."
Roots and Wings proposes a new system in which fishers have increased autonomy over every stage in the value chain. It allows them to reap the rewards of better prices by avoiding middlemen who increase prices without passing on the difference to the fish harvesters.
"Presently, Roots and Wings implements methods on a local scale that can be scaled up as we learn more," said Ms. Saul. "It's our long-term goal to create another option to the monopoly, which stresses direct sales and fisher autonomy."
Incubator impact
Ms. Saul joined the Centre for Social Enterprise's Social Ventures Incubator in Roots and Wings first year of operation. It was a crucial time for her venture.
"We faced a huge amount of self-doubt and struggled to adapt to conditions in the fishery that were constantly changing."
A kickoff weekend hosted by the centre was initiated at the beginning of Ms. Saul's cohort, in which social entrepreneurs took part in workshops, such as Getting Serious about Business, (Social) Business Model Canvas, Social Impact and Theory of Change, which helped guide Ms. Saul in determining next steps for Roots and Wings.
Ms. Saul says Carolann Harding, chief executive officer of SmartICE and a business advisor in the Social Ventures Incubator, helped focus her ideas into a framework for her enterprise.
"The opening weekend of the incubator especially provided key insights and laid the groundwork for planning for the rest of the entire year," she said. "A key meeting with my business advisor in the fall of 2022 helped organize and actuate these plans."
Ms. Saul received $5,000 in funding during her time in the incubator. She used it to help develop a logo as well as packaging design, website design, low-cost advertising and initial packaging materials.
"We have nearly nailed down our packaging for our salt fish prototype, began exploring the market potential for salt fish and salt fish skin dog treats, and collected a list of over 200 participants in direct sales for snow crab this spring," she said.
She was also eligible for the Insight Business Consulting Program (IBC) through the university where she recieved 200 hours of student consultant time that helped further Roots and Wings with operationalization of their ideas in St. John's, starting on a small-scale.
Learn more about Roots and Wings Fish Co.:
Facebook page: Roots and Wings Fish Co.
Email: rootsandwingssaltfish@gmail.com
Website: rootsandwingsfish.com