Insight Business Consulting Program
The Insight Business Consulting Program matches start-up companies with MBA students to assist with projects. The program will provide companies with creative solutions, new insights, knowledge, and resources. Students will gain real-world experience and industry connections.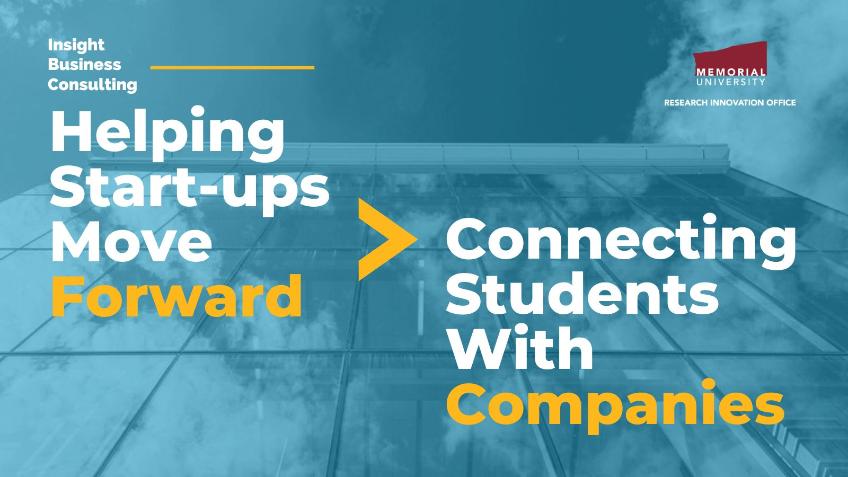 This program is free for start-up companies, and full-time MBA students will receive a $4,500/semester fellowship.
The application deadline has passed for Fall 2023. Please check back in December 2023 for the Winter 2024 semester.
For more information, please email rio@mun.ca.
A full-time MBA student will consult for a start-up company for one semester and provide expertise in specific areas of the start-up process, e.g., market analysis, setting up accounting systems, financial projections, etc.
Student Benefits:
Contribute to the local start-up community
Apply coursework to real-world situations
Network and create connections
Financial support
Start-up Benefits:
Access skills, expertise, and resources at no cost to the start-up company
Help mould the next generation of business leaders
Connect with the University
Assess potential future employees
Company Eligibility:
Start-up companies must be connected to Memorial University's entrepreneurial support programs such as Genesis Enterprise, Memorial Centre for Entrepreneurship (MCE), Memorial Centre for Social Enterprise (CSE), Navigate Entrepreneurship Centre, School of Graduate Studies' Entrepreneurial Training Program (ETP) or a Newfoundland and Labrador startup associated with the Ocean Startup Project. Priority will be given to start-up companies currently participating in those programs.
The support of ACOA and the generosity of Mr. Mark Dobbin allow Memorial to help strengthen this province's innovation ecosystem through the Insight Business Consulting program.