Electives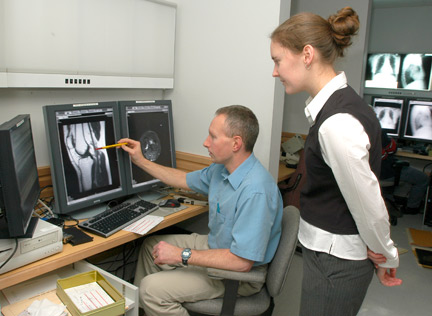 The department of Diagnostic Radiology at Memorial University is a very dynamic department and provides excellent learning opportunities at the clerkship level.
Clinical clerks can receive exposure to GI radiology, GU radiology, chest radiology, skeletal radiology, neuroradiology, interventional radiology, nuclear medicine, CT Scanning, MR imaging, ultrasound, pediatric radiology, and mammography.
International, national, and local third and fourth year medical students are welcome to apply.
If you wish to apply for an elective in Diagnostic Radiology at Memorial, please contact the Undergraduate Medical Education office.
Undergraduate Medical Education
Phone: (709) 864-8463
Toll Free: 1-855-884-8463
Email: ugme.electives@med.mun.ca
Website: https://www.med.mun.ca/uGradme/home.aspx
Sample Elective Schedules
Template-1
Template-2
Template-3
Template-4
Template-5

Previous Student Testimonial
"I had an incredibly positive experience on radiology elective at Memorial University. So much so that it changed my mind on my career path and apply radiology. The staff and residents are positive, supportive, approachable and are keen to teach. My time was evenly split between one-on-one experiences with residents and staff as well as practicing image interpretation."