Dr. Khan Travels to China with FEAS Delegation
Nov 8th, 2018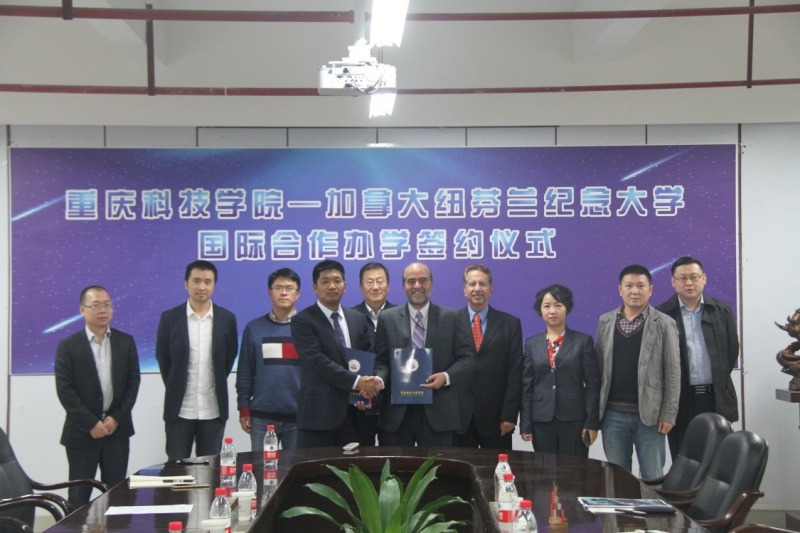 Dr. Khan Travels to China with FEAS Delegation
In October 2018, a Faculty of Engineering and Applied Science (FEAS) delegation from Memorial comprised of Dr. Faisal Khan, Anil Raheja, and Jinghua Nie travelled to China to develop relationships and partnerships with several Engineering programs. Their trip began at Tsinghua University, currently ranked the #1 university in China. It was proposed that C-RISE and the Department of Chemical Engineering jointly organize a workshop in 2020.
The next stop was Chongqing University of Science and Technology (CQUST), a university that specializes in petroleum related studies. FEAS delegation met with Dr. Dazhi Xiao, Vice-President of CQUST, Dr. Wenhe Wang, Dean of School of Safety Engineering, Dr. Ning Lu, Assistant Dean, Dr. Yuanjian Yang, Department Head, as well as other officials and professors. A signing ceremony for a MoU with CQUST was held to develop coop opportunities (see image above).
Next, they visited the University of Electronics, Science and Technology of China (UESTC). They specialize in electronics, information technology, communication, and mechanical engineering. The delegates met Dr. Ping Yang, the Dean, Dr. Kesheng Wang, the Vice Dean, Dr. Zhenyuan Zhang, the Assistant Dean, Dr. Xiaoqian Zhou and Dr. Xiaoyan Luo at the School of Mechanical and Electrical Engineering at UESTC and discussed collaboration initiatives.
At the Harbin Institution of Technology (HIT), an MOU was signed with the Office of the Associate Dean (Graduate Studies). FEAS delegation met Prof Weixiao Meng, the Vice Dean of School of Electronics and Information Engineering and Ms. Ferika Yang, International Officer and discussed about coop placements for FEAS undergraduate students.
Further meetings at the China Petroleum University (East China) and Zhejiang University of Science & Technology (ZJUT) resulted in new partnerships for coop placements. Additionally, they met with many prospective graduate students interested in studying safety and risk engineering at Memorial.