Ruochen Yang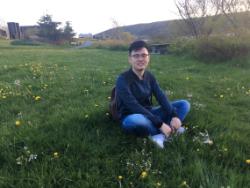 Ruochen Yang is an M Eng. student in oil and gas engineering under the supervision of Dr. Faisal Khan. He obtained his bachelor's Degree in safety engineering at China University of Petroleum (East China). He studied and worked in C-RISE as a visiting student from January 2017 to July 2017. His research topic is risk assessment and management of fire and explosion accidents.
Research interests
Fire and explosion
Computational fluid dynamics
Bayesian network
Stochastic Petri Nets
Publications
Yang, R., Khan, F., Yang, M., Kong, D., & Xu, C. (2018). A numerical fire simulation approach for effectiveness analysis of fire safety measures in floating liquefied natural gas facilities. Ocean Engineering, 157, 219-233.
Contact info
Email: ruocheny@mun.ca
Office: ER 4015 (C-RISE OFFICES)
LinkedIn: https://www.linkedin.com/in/ruochen-yang-067809b7/