Mohammed Taleb-Berrouane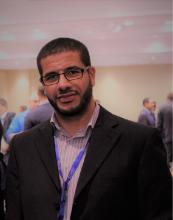 Dr. Mohammed Taleb-Berrouane is the Research & Development Project Manger at C-RISE. He has managed several research projects including a large scale research project "Managing Microbial Corrosion in Canadian Offshore & Onshore Oil Production Operations." (geno-MIC.ca) for Memorial University (MUN). Others involved with the multi-institutional project include the University of Calgary, University of Alberta, Dalhousie University, VIA University College, Oklahoma University and DNV-GL.
In addition to the project management tasks, Dr. Taleb-Berrouane is actively involved in teaching and research at MUN and the Centre for Risk, Integrity and Safe Engineering (C-RISE) since 2015. He is a Sessional Instructor at MUN's Faculty of Engineering and Applied Science since 2018.
Dr. Taleb-Berrouane completed his Ph.D. in 2019 at MUN in the Oil and Gas Engineering discipline - major in Risk & Asset Integrity Management. His research project focused on developing advanced probabilistic methods for corrosion modelling and resilience engineering.
Research and Teaching activities:
Dr. Taleb-Berrouane has authored and co-authored numerous research and conference papers mainly in the area of process safety, risk, reliability and asset integrity management. Dr. Taleb-Berrouane has been a reviewer for several journals and conferences in the area of probabilistic modelling, process safety and reliability engineering. He has taught the following MUN courses:
ENGI 9411: Probabilistic Methods in Engineering [Graduate Course]
ENGI 9121: Advanced Safety and Risk Engineering [Graduate Course]
ENGI 9116: Advanced Reliability Engineering [Graduate Course]
ENGI 9115: Safety and Risk Engineering [Graduate Course]
ENGI 8671: Safety and Risk Engineering [Undergraduate Course]
ENGI 8670: Reliability Engineering [Undergraduate Course]
ENGI 1010: Tutorial for first-year engineering class (150 students)
Leadership achievements:
Dr. Taleb-Berrouane's leadership achievements include:
R&D project manager at C-RISE [2018 - Present]
NACE Newfoundland Chapter, Membership Chair [2019-2020]
SPE Atlantic Canada Section, Program Chair [2019-2020]
SPE - MUN Chapter, Vice-President [2018-2019]
C-RISE Workshops on Safety and Integrity Management of Operations in Harsh Environments, Organizing Committee Member [2017, 2019 and 2021]
Society of Petroleum Engineers (SPE) - MUN Chapter, Professional Development Chair [2017-2018]
Selected publications:
Research profiles:
Professional profile:
Email address:
m.talebberrouane[a]mun.ca