Eugenio Turco Neto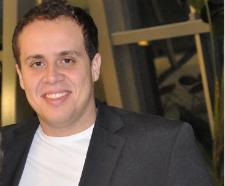 Eugenio is a PhD. student in process engineering and has been involved in several projects related to advanced modelling and CFD applications. His research area is related to multiphase reacting flows, advanced chemical reaction engineering, heterogeneous catalysis, process control and optimization. He was also the winner in the master's division of the 2016 SPE Canada region student paper contest.
Research interests
Computational fluid dynamics, chemical reaction engineering, refining engineering, process optimization
Publications
Turco Neto, E.; Rahman, M. A.; Imtiaz, S.; Ahmed, S. "Numerical Flow Analysis of Hydrate Formation in Offshore Pipelines Using Computational Fluid Dynamics. ASME International Conference on Offshore Mechanics and Arctic Engineering, Volume 8: Polar and Arctic Sciences and Technology; Petroleum Technology.
E. T. Neto, S. A. Imtiaz and S. Ahmed, "A sequential optimization procedure to tune MIMO PID controllers," 2017 Indian Control Conference (ICC), Guwahati, 2017, pp. 415-420. doi: 10.1109/INDIANCC.2017.7846510;
Neto, E. T. (2016, September 26). A Mechanistic Computational Fluid Dynamic CFD Model to Predict Hydrate Formation in Offshore Pipelines. Society of Petroleum Engineers. doi:10.2118/184491-STU
Neto, E. T., Imtiaz S., Ahmed, S. SENSOR FAULT DETECTION AND DIAGNOSIS IN FLUIDIZED CATALYTIC CRACKING UNITS USING UNSCENTED KALMAN FILTERS. IIChE 2017 Conference.
Contact info
Email: etn178@mun.ca