Wired to succeed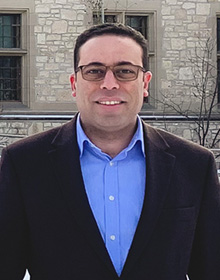 Ebrahim Mohamed is a PhD graduate in Electrical and Computer Engineering from the Faculty of Engineering and Applied Science. Upon finishing his studies, Dr. Mohamed completed a post-doctoral fellowship at the University of British Columbia, and he is now an assistant professor at the University of Saskatchewan.
Dr. Mohamed chose Memorial for the distinct research profiles of his potential supervisors, and cites the university's graduate student resources and opportunities as integral to his own success.
Where are you originally from?
Egypt.
Why did you choose Memorial for graduate studies?
I chose Memorial University because of the strong research profiles of my prospective supervisors in the Faculty of Engineering.
What was your degree program and area of specialization?
My degree program was the PhD in Electrical and Computer Engineering, and my area of specialization was wireless communications. In particular, my PhD work was about optimal link adaptation for emerging wireless communication systems.
How would you describe your experience as a graduate student at Memorial?
Overall, I had a great experience at MUN both professionally and personally. On the professional level, I was equipped with all the resources required to excel in my research. On a personal level, I enjoyed the beautiful landscape of Newfoundland and the hospitality of Newfoundlanders and Labradorians.
What were some of your accomplishments during your graduate degree?
I passed both parts of my comprehensive exam with distinction. I published five manuscripts in a first-tier IEEE (Institute of Electrical and Electronics Engineers) journal as well as several flagship conference papers out of my PhD work (all as a first author). My PhD thesis was also nominated for the CAGS/ProQuest-UMI Distinguished Dissertation Award, I received the outstanding TA award from the Faculty of Engineering and Applied Sciences, and I was named a Fellow of the School of Graduate Studies.
What are you doing now after having graduated with your master's degree/PhD?
Currently, I am an Assistant Professor in the Department of Electrical and Computer Engineering at the University of Saskatchewan.
Did you get a job directly after graduating?
Yes, I got a post-doctoral fellow position at the University of British Columbia, Okanagan Campus, right after graduation.
How did your graduate program help prepare you for your current job?
My PhD at MUN provided me with the required skills to excel in my current position. I had solid research training in wireless communications, digital communications, and signal processing, along with excellent collaboration opportunities with industrial and governmental funding agencies.
How did Memorial help to get you where you are today?
In addition to the excellent research experience I had at MUN, I gained teaching experience as an instructor for one year before graduation. Both the research and teaching experiences I had were instrumental to obtaining a job in academia.
What advice do you have for current and/or future graduate students?
Explore all available opportunities, as graduate studies are most likely to be the final chapter of the formal part of your education. A PhD is a big commitment that takes you to the edge of human knowledge, so work hard and believe in yourself.
Become a graduate student at Memorial. Apply online today!