Making Herself at Home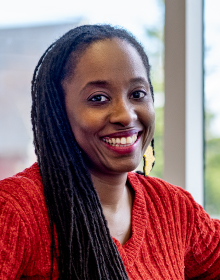 In addition to being a personal resilience advocate and educator, Deneice 'Didan' Falconer has been teaching English to speakers of other languages for almost a decade. Born and raised in Jamaica, she earned a Bachelor of Arts in Theology at the Jamaica Theological Seminary in Kingston, Jamaica. After graduating, Didan moved to Japan and taught English for nearly eight years before coming to Memorial to pursue a Master of Education in Curriculum, Teaching and Learning Studies.
What program are you currently completing?
After years of teaching in the English as a Foreign Language in the Japanese public school system, I became interested in a career in Education Program Management. I had special interests in curriculum studies and was accepted into the Master of Education in Curriculum, Teaching and Learning Studies. My specialization is Second Language Education.
Who is your supervisor?
Within a month of starting my program, I was introduced to Dr. Xuemei Li, (the Faculty of Education's expert in the English as a Second Language industry) and I was able to convince her that we should work together. She has been my mentor and advocate ever since.
What is your research/thesis about?
Through a specialty course (ED-6674 Research in Second Language Writing Education) I became acquainted with the use of writing workshop pedagogy to support the social integration of recent immigrants who use English as an additional language. My research explores newcomer writing workshops, as offered through community organizations in Canada, to identify the proven practices for facilitating the social integration of recent immigrants.
What is the goal of your research?
Through the appreciative inquiry process, I hope to identify the systematic principles that guide community organizations as they use writing workshops to facilitate the integration and full participation of recent immigrants to Canada. Then, through this strengths-based approach, I would love to develop a framework for newcomer writing workshops that can be adopted by our local community organizations that support recent immigrants.
What are the implications of your research project for the province, the country and the world?
"Writing is essential to communication, learning, and citizenship" (National Writing Project), however, Newfoundland and Labrador is in need of initiatives that help newcomers to develop their identities and writing skills, while amplifying their voices and confronting social injustices. Newcomer writing workshops equip and encourage multilingual immigrants to share their stories, and their amplified voices raise awareness about their successes and challenges within the province. Through this kind of engagement, community members can build relationships based on trust and understanding and increase our immigrant attraction and retention rates. So, by developing a framework for newcomer writing workshops, my research will empower local community organizations to enhance the social integration of newcomers, guided by proven practices.
Become a graduate student at Memorial. Apply online today!