Partner perspectives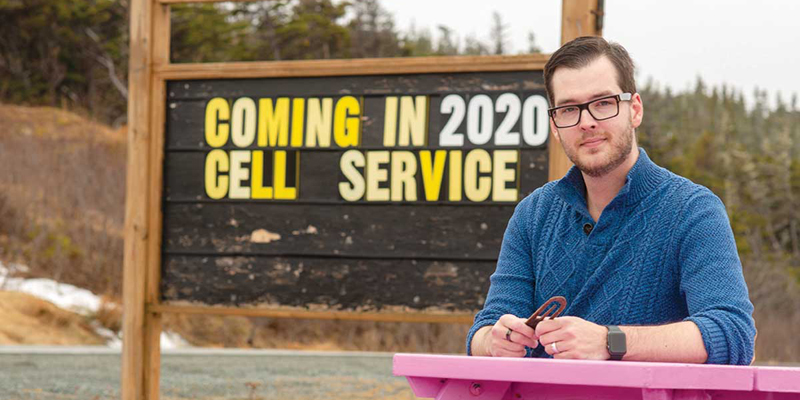 Colin Corcoran of St. Mary's Bay Connect points to three specific ways the CSE supports have been invaluable to the organization.
NETWORKING
"The Centre for Social Enterprise would regularly connect us with people working on similar ideas, which was incredibly valuable."
STUDENT TIME & TALENT
"We took advantage of two initiatives for students offered by the centre. One supported a student working on a research project, which allowed us to identify additional development opportunities for the future of the group. The second project was a group of students, who were working on a defined issue [internet connectivity] through coursework."
EXPOSURE
"I have been able to have discussions with mayors of nearby similar communities and others. It is the exposure that really helped to add legitimacy to the organization."
---

"This project definitely sparked interest into further developing my hometown. I learned about the true potential St. Mary's has to offer and it's something I will absolutely consider."
Emily Fagan
B.Comm. (Co-op.) student
St. Mary's Bay Connect
---
"Without the support from the centre, I don't think that Read Our Lips would be launched. They have helped with a huge piece of work and I have been very fortunate to have had amazing students working with us."
Alison Butler
Co-ordinator of education and awareness
Canadian Hard of Hearing Association-NL
---

"The collaboration enabled us to have the skillset we needed, gave a tremendous work experience to a social work student, and provided CSE an opportunity to work on a local project. We were able to pull it all together in pursuit of positive social impact on a local community."
Carolann Harding
Executive director
SmartICE
---

"Social enterprise was a concept that I had not encountered before. Through working for Shorefast, I have since become a believer in this business concept. Allowing businesses to think about something other than profits leaves them able to make a difference in their communities and improve upon their chosen cause."
Rebecca Hulan
Marine Institute graduate
WESE student with ShoreFast
---

"I would recommend getting experience in social enterprise to all students because it is a unique experience that will open so many doors. I've made a lot of connections and learned so much."
Leslie Feltham
B.Comm. (Co-op.) student
---

"MUN has been a great co-conspiritor when it comes to launching the social innovation ecosystem in N.L. They have been amazing in listening, looking for synergies and naturally seeing linkages. Plus, they are always looking for how we can push the envelope, continue to innovate and lead by example."
Carla Leon
Innovation and special projects, EDGE, a network for ministry renewal & development
United Church of Canada
---

"The most valuable aspect of the competition was stepping out of my comfort zone. Learning how to conduct research on my own and networking with others who had the same background as me really helped me to gain confidence and add a bit of fun to it."
Gabrielle Charlton
B.Sc. student (physics, earth science)
Winner, Memorial's 2018 Map the System