Cool jobs, warm hearts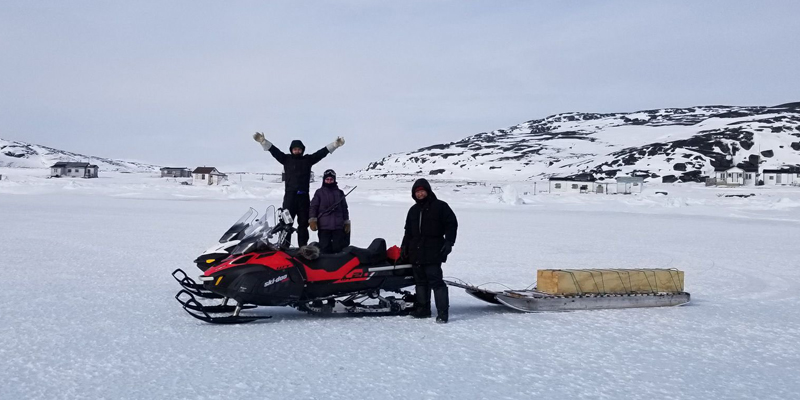 From high-tech environmental monitoring to low-cost food and housing programs, placements through the Work Experience in Social Enterprise (WESE) program have opened students' eyes to the rich and rewarding work of social enterprise.
Thanks to this program, social work student Todd Perry was able to join business student Shawna Dicker (funded separately) at SmartICE's Northern Production Centre in Nain, Labrador.
SmartICE is the world's first climate change adaptation tool that integrates traditional knowledge of sea ice with advanced data tools. The enterprise provides training and employment to inspire local Inuit youth to become champions of the technology. In his role, Mr. Perry built supportive relations among the youth team, while Ms. Dicker managed logistics for all on-the-ground-activities and offices. In this multi-disciplinary duo, each found the other's perspective to elevate their own.
"This practicum has me thinking about how social work can align with business to tackle social issues — ideas I will take with me into my social work career." – Todd Perry
"It was a perfect collaboration," says Mr. Perry. "Working with colleagues with like-minded values, we were able to promote a safe, trusting and supportive environment where youth could let their guard down and thrive."
Likewise, Ms. Dicker acknowledges the impact on business when the humanitarian aspects are equally considered. "SmartICE highly values Inuit and their knowledge," she says. "It's an enterprise of constant learning, innovation and teaching."
Carolann Harding, SmartICE executive director, says this intersection of disciplines is critical for success in social enterprise. "A social enterprise is more than a business. A social enterprise is dynamic and has lots of moving parts. Between the social impacts and business aspects, each has a different requirement and skillset, but when those skillsets merge together ... that's when the magic happens."
Both Mr. Perry and Ms. Dicker have been hired back by SmartICE part-time to continue their great work as established professionals in the field.