'Responsibility to impact the world': Incubator graduate aims to educate through video games
Jan 10th, 2022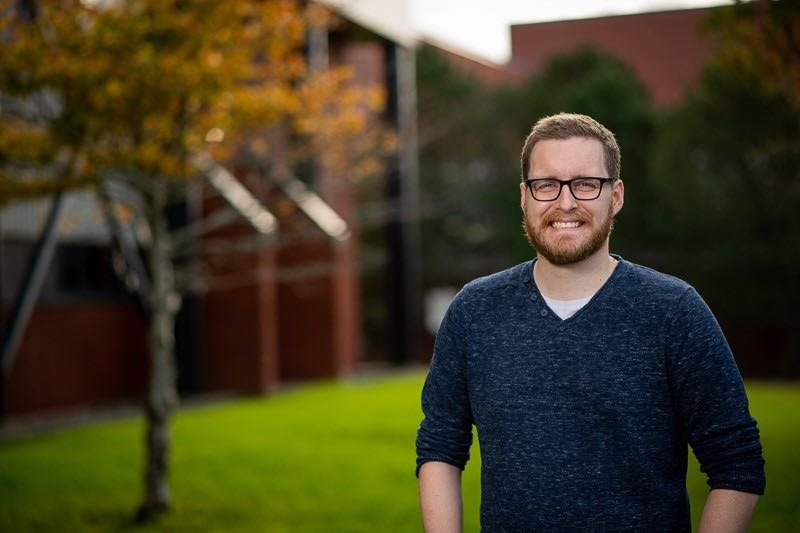 'Responsibility to impact the world': Incubator graduate aims to educate through video games
Photo credit: Rich Blenkinsopp
Evan Burry (BA'14, B.Ed.'15, MBA '20) has a passion for culture and history.
As a high school teacher, he became aware of the disconnect that people have with their own culture and heritage and the gaps that exist with various educational tools.
In 2020, Mr. Burry founded Stormy Shore Studios, a social enterprise that preserves culture and history through digital media.
"People seem to be torn between the past and the modern technological environment, leading individuals to move toward a 'monoculture,' thus losing a lot of uniqueness and knowledge in the process," he said. "I believe that, even with a rapidly globalizing and interconnected world, there is plenty of potential to harness societal advancement to further cultural knowledge and ensure that inclusivity is promoted."
While looking for alternative learning tools, Mr. Burry quickly realized there wasn't much available with respect to social studies, especially video games.
"I knew how powerful of a force video games were in my own personal education, and how fun they can be, so I wanted to integrate them into the classroom."
Mr. Burry noted that the available educational games were often heavy on the education side with little effort to make them fun. This led him to look at mass market offerings, which he adapted curricula to suit.
However, Mr. Burry decided to pivot early on to focus his company on mass market rather than solely on the education system.
He's currently working on two video games. The first, Regiment, is an episodic, narrative-driven third-person shooter game about the Royal Newfoundland Regiment in the First World War.
"It tells an unflinching and raw story that deals with loss, pain and the persistence of memory," Mr. Burry said.
The second game, Relocation, is "an open-world, first-person, psychological horror game … in a resettled Newfoundland community and deals with the loss of home, loved ones, your sense of identity and the peace you find in letting go."
The goal
Mr. Burry and team are hoping to change the conversation around culture and heritage as well as encourage additional investment to expand cultural offerings beyond physical artifacts and museums.
"In the end, we believe that culture and heritage organizations have plenty of unrealized potential. There are many untold stories that would be engaging to a wider audience. Unfortunately, these stories are not reaching as far as they could."
Incubator impact
Mr. Burry graduated from the Centre for Social Enterprise's Social Ventures Incubator in December 2021. He applied to be part of the first cohort, he says, to ensure that he was being socially responsible and ethical while developing Stormy Shore Studios.
"We have a responsibility to impact the world through what we do. Even if small, any move toward making a better world is key to a sustainable future," he said. "Stemming from this pandemic, and also considering the current economic situation in N.L., there is a lot of potential for success."
Mr. Burry says that the incubator has been an invaluable resource for the growth of his company through building a better understanding of corporate social responsibility, building a network of likeminded business professionals, challenging his assumptions and enabling him to keep pushing forward.
Mr. Burry is also excited about expanding his company into new areas outside of the initial scope.
"We are expanding the business to cover some additional aspects as part of our mission to promote and preserve culture and heritage worldwide. We'll have more to reveal about that in the near future so stay tuned!"
Advice for social entrepreneurs
Keeping your goals in mind while staying true to the social focus that drives you is one piece of advice that Mr. Burry has for people thinking about becoming a social entrepreneur.
Work-life balance is also very important to him, and he encourages people to stay mindful of their own needs and not get lost in the company.
"Running a business, let alone a social enterprise, is difficult. If you find yourself losing interest in hobbies and having less time for friends and family, re-evaluating your priorities might be necessary."
Applications for the CSE's Social Ventures Incubator are now open. Click here to learn more.