Read our lips
Apr 20th, 2020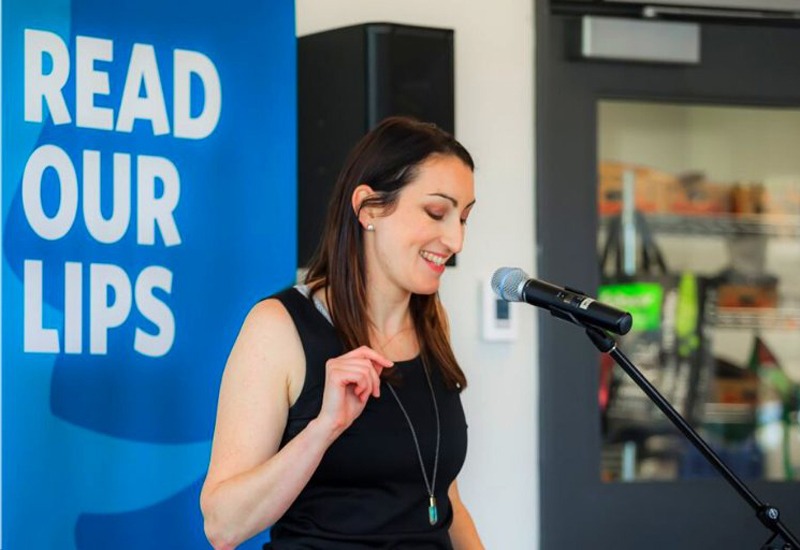 Read our lips
Memorial University alumna Alison Butler (B.Comm. (Co-op.) '05, MER '12), has recently led the launch of a social enterprise, Read Our Lips, to help hard of hearing or late-deafened individuals in the province.
Read Our Lips is a social enterprise of the Canadian Hard of Hearing Association of Newfoundland (CHHA-NL) and is the first of its kind in Canada.
With support from the Centre of Social Enterprise (CSE) and its Work Experience in Social Enterprise (WESE) program, Ms. Butler also had help with the development and launch of this social enterprise from Memorial students.
What they do
CHHA-NL is a non-profit charitable organization. It works to prevent hearing loss and provides programs and services to promote a better quality of life for hard of hearing and late-deafened people of all ages, as well as their families in Newfoundland and Labrador.
CHHA-NL has taught in-person lip reading classes at its provincial office for a number of years. The organization employs trained speech reading instructors who teach people lip and mouth movements, which has been very beneficial for people within the region. However, because these classes were only accessible to people in the St. John's metro area, and only offered at specific times, CHHA-NL wanted to find a new way to provide these resources to people all over the province.
Because its not feasible for CHHA-NL to provide in-person accessibility across the province, the association decided to use technology to provide a more accessible services, and the idea for Read Our Lips was born.
Read Our Lips offers a self-paced online course for adults with hearing loss that teaches lip and speech reading skills. It's particularly beneficial to adults experiencing hearings challenges such as in background noise.
Ms. Butler, coordinator of education and awareness for CHHA-NL and project manager of Read Our Lips, used her business skills to start up this social enterprise.
"We took something that was already happening in a classroom, modified it, and made it accessible to everyone in the province, and we're really excited about it," said Ms. Butler.
However, CHHA-NL needed more hands-on support to develop the social enterprise.
After hearing about the WESE initiative at Memorial's CSE, both parties agreed that this initiative was a perfect fit.
A unique student experience
The work experience program at CSE blends the objectives of developing students as future social entrepreneurs with supporting organizations as they transition to social enterprise. The centre connects students to the community and gives them hands-on experience working in a social enterprise, all while delivering additional capacity to partners in the community.
"Without the student support and the support from CSE, I don't think that Read Our Lips would be launched," said Ms. Butler. "They have helped with a huge piece of work, and it has taken a team effort to get us to the point it is today."
Leslie Feltham is a commerce student at Memorial University and will be completing her third work term at CHHA-NL this summer. Her role has largely focused on the promotion of the launch event for Read Our Lips.
Ms. Feltham says she didn't understand what a social enterprise was before her placement but her work terms have helped her gain a strong sense of community and grasp of how social enterprise works.
"I would recommend getting work experience in social enterprise for all students because it is a unique experience that will open so many doors," she said."The environment is similar to other businesses I've worked in but is special because each person is working towards the same goal of providing social good in our communities."
Victoria Moulton began working for CHHA-NL in 2017 and joined Read Our Lips in 2019 through CSE's work experience program. Her role included helping populate the website and developing marketing materials such as newsletters, graphics and communications.
Today, Ms. Moulton works at CHHA-NL part-time and says this experience has changed her career path. She's now working on a business degree to continue her journey in marketing.
"Working in a social enterprise comes with its challenges, but seeing results, and knowing that you are helping create something that others will benefit from, is very rewarding," said Ms. Moulton.
Read Our Lips is currently exploring its next steps including ways to expand its services beyond Newfoundland and Labrador.
If you're interested in learning more about Read Our Lips, visit www.readourlips.ca