Preserving structures and memories in rural N.L. with student support
Oct 15th, 2020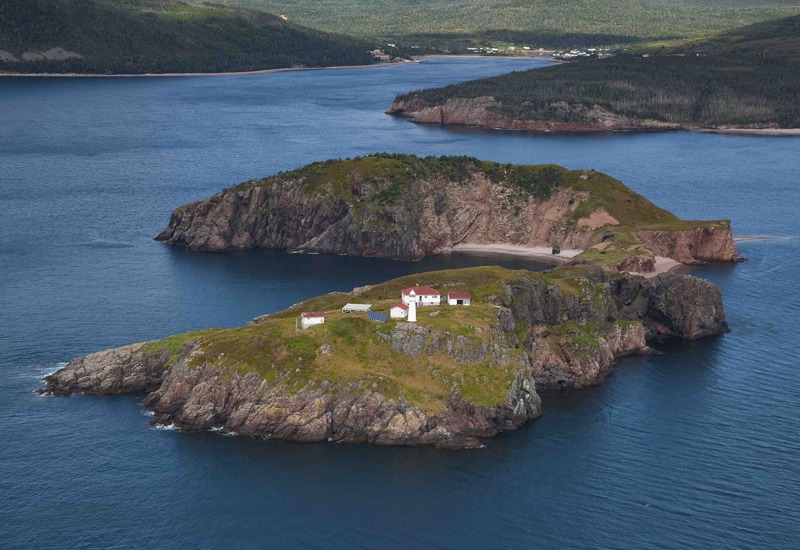 Preserving structures and memories in rural N.L. with student support
"How many communities can lay claim to having its own island — especially an island that has spawned stories of tragedy, love, disasters and mysteries?"
St. Jacques Island offers a unique destination for those seeking a remote, island-based environmental experience.
Alex Hickey (B.Ed.'79) is chair of St. Jacques Island Heritage Corporation (SJIHC), and has long been interested in the heritage, history and culture of Newfoundland and Labrador.
The SJIHC was born after the Canadian government decided the St. Jacques Island lighthouse would be decommissioned. The not-for-profit organization with a volunteer board of directors sought to retain and preserve this unique structure through social enterprise, with support from the community including the municipality of St. Jacques-Coomb's Cove.
In June of 2016, SJIHC succeeded in having the light tower recognized as a national historic structure by Parks Canada.
Student support
Recent Memorial graduates Taylor Power (B. Comm. (Co-op.) '20) and Robyn Budgell (B.Comm. (Co-op.)/BA'20) completed an independent studies course (Business 6006) during their program. Through the course, the students worked in small consulting teams on projects for social enterprises in the province.
During Ms. Budgell's final year of schooling, she was president of Enactus Memorial. Because she already had knowledge and a strong interest of social enterprise, she says taking Business 6006 was an easy decision to make.
"Social enterprise has been something I've been working with for a couple of years, so it seemed like a no-brainer to take this course and do my best to help a small business here in NL."
Ms. Power was also a part of Enactus Memorial, and says she first became interested in social enterprise during her time there. "
After volunteering with Enactus I wanted to learn more about social enterprises in Newfoundland and Labrador. When I heard about Business 6006, it combined the two different branches I wanted to learn more about, the different elements of social enterprises and developing actual business recommendations for these social enterprises."
Ms. Power and Ms. Budgell chose to focus their project on SJIHC. They both agree that what drew them towards this particular social enterprise was the passion of the board of directors.
"More specifically, [Mr.] Hickey's determination for preserving the lighthouse on St. Jacque's Island after the Government of Canada announced the divestment of numerous lighthouses," said Ms. Power.
According to Ms. Budgell, both students have roots in rural Newfoundland, making this project close to heart. "This is a group of people, mostly from the community, whose goal is simply to show the beauty of the island and the history of the lighthouse."
What's next for SJIHC?
The SJIHC is currently using the marketing plan developed by the students to mobilize into the next phase of development, which includes designing and developing educational, interpretive and promotional materials for SJIHC.
They are also now engaged with revitalizing and renovating accommodations and studio spaces within existing buildings on the island, establishing key infrastructure such as security fencing, continuing the process of documenting the history and heritage of the island, and so much more.
"[The students'] support came at a time when we were attempting to focus our social enterprise perspective: exploring what it meant, articulating our role in the community, how our efforts might have beneficial social and economic returns for the local community and greater regional community," says Mr. Hickey. "Their interest, presence and questions prompted many practical and pragmatic discussions among board members which assisted us in bringing more precise focus to our work."
When asked about the impact this project had on her career path, Ms. Power says "a lot of business students are intimidated by the start-up world and the word "entrepreneur". I think that the experience of consulting for a social enterprise showed me that there are so many resources available to aid in starting a business. It changed my mindsight to help me realize that if I ever did want to start my own business one day, it could be a realistic goal."
Photo credit: Department of Fisheries and Oceans, Coast Guard Division