Two HKR students working hard to promote recreation are rewarded with scholarships
Jan 27th, 2014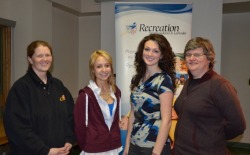 Two HKR students working hard to promote recreation are rewarded with scholarships
"The scholarship is important to me not just because of the cash but also because it helped me get in touch with the recreation community," said Kate. "Meeting the employees at Recreation NL and getting to accept the award in front of HKR faculty members made me feel appreciated and proud."
Kate adds that she believes scholarships do more for students than just provide funding. It also helps build their confidence and gives them something to strive for beyond just passing a course.
Kate and Samantha were chosen because of their contributions to recreation through volunteer activities, work experience, studies and involvement in Recreation NL.Two scholarships are awarded annually.
"This scholarship was created to assist with increasing the number of knowledgeable professional recreation leaders within the province," states Dawn Sharpe, president of Recreation NL.
The objective of the Recreation NL Student Scholarship Program is to ensure future quality leadership through the provision of financial support to emerging leaders enrolled in recreation related studies throughout NL. The Department of Tourism, Culture and Recreation, Government of Newfoundland and Labrador financially supports the programs of Recreation NL.