The Great Big Walk
Jun 27th, 2014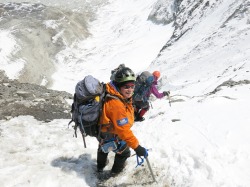 The Great Big Walk
On March 5, Dr. TA Loeffler set out on a 600 kilometre traverse of the High Himalaya in Nepal. The HKR professor, along with her partner Marion Wissink from the Department of Computer Science, and two others left with the goal of walking one million steps over 65 days and 600 kilometres: 1,108,898 steps later (give or take one or two) their mission was accomplished.
The trek started in in Taplejung, Nepal. They gained more than 25,000 metres in elevation and crossed four regions: Kanchenjunga, Makalu Barun, Everest, and Rolwaling, finishing the walk near the highway that links Nepal to Tibet.
Part of the adventure was The Great Big Walk, which involved using curriculum materials developed by HKR 4210 students to engage elementary students in social studies, physical activity and geography. Grade four and five were able to interact with the group in the field through regular communication, thanks to funding from Memorial's Quick Start Fund for Community Engagement.

Dr. Loeffler is also the ambassador for Recreation Newfoundland and Labrador's Find Your Fit campaign, which was launched at the same time as The Great Big Walk. It fit in perfectly with her goals to reach out to people, encouraging them to be more active and talking about the benefits of walking. They posted their location, did an audio update on the day's adventure, and shared all that they learned about the landscapes and cultures they were traveling through.
"As always, I want my expeditions to do more than me reaching a summit or traversing a country so I decided to combine to two: Walking across a huge chunk of Nepal while trying to inspire folks and children to be more active."
"I was also deeply called to cross the Amphu Labsta Pass, which we couldn't do the year before because of too much snow and so this trek allowed a second chance at that pass. I also wanted to go back to Nepal to decide if I was going to return to Everest for a third attempt." (She's not saying what she's decided on the latter yet)
Dr. Loeffler says the only thing that really surprised her about this adventure was how hard it was to come home and stop walking.
"We walked to and from work for the first two weeks we were back but then teaching needs required that I give that up. Now that intersession is over, I hope to get back to more intensive walking and training. I loved the simplicity of life on the expedition: sleep, eat, walk, eat, walk, eat, write dispatch for students, call in dispatch, set off spot device, eat, sleep. Repeat 65 times."