Soaking up the sun, and the experience
Jul 2nd, 2014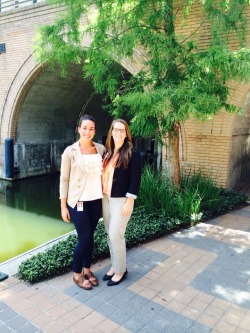 Soaking up the sun, and the experience
Two graduate students are getting some not-so-typical experience this year. Nicole Bishop, B.Sc. (Kin)(Co-op)(Hons)'13, and Katie Aylward, B.Sc.(Kin)'12, kinesiology masters students who are interning with the American Bureau of Shipping (ABS) in Houston, Texas.
ABS is an international classification society devoted to promoting the security of life, property and the marine environment through the development and verification of standards for the design, construction and operational maintenance of marine-related facilities.
ABS and MUN have a long-standing relationship with students from both the kinesiology and naval engineering programs completing internships and co-op work terms there. In fact, ABS also has its own Harsh Environment Technology Centre (HETC) in the Faculty of Engineering, which was created in 2009 to support the development of technologies for ships and offshore structures operating in harsh environments.
Back in the fall, ABS was looking for an intern and contacted Dr. Scott MacKinnon, Katie's graduate supervisor, who recommended her. While there, Katie passed along a recommendation to hire Nicole to an employer in the company who was looking for someone who had a similar background as her.
Katie has been with in Houston since January and works with the Safety and Human Factors Department. She's been involved with projects looking at the accommodations area criteria for ships, offshore installations, workboats, and other sea-going vessels to determine the appropriate criteria for lighting, vibration, noise and air quality. Katie has also worked on guides and guidance notes that provide rules and regulations to owners and operators of ABS classed vessels. In addition, she's working on a proposal to Petroleum Research Newfoundland and Labrador (PRNL) for a research project that would take place offshore Newfoundland.
Nicole started her internship with ABS in June and is working in the Health and Safety, Quality, and Environmental (HSQE) Department.
"One of the main tasks I am working on this summer is calculating statistics on the number of incidents, accidents and fatalities that have occurred within the company worldwide. ABS has more than 5,000 employees working from representative offices in over 70 countries. These employees may be working in office buildings or on site locations (i.e. ship yards) surveying vessels, ships, and platforms. With the information collected, I am assisting in the development of safety protocols and programs."
Another project Nicole is working on is reviewing health and safety rules and regulations across the world to ensure ABS protocols and procedures are up to date. Also, both Katie and Nicole's departments are working together to test the latest safety equipment for ABS surveyors such as cooling vests, ear and eye protection, and other personal protective equipment.
"The best part about this internship is that we get work experience in our field and we also get to make valuable global industry connections. It is has been a great experience because we have the opportunity to expose others to kinesiology and human factors in relation to marine safety, which is a field not well known," notes Nicole.
"Many people assume that pursing a degree in kinesiology means continuing on to work in health care, however, that is not the case anymore," says Nicole. "The Memorial kinesiology program is rapidly expanding and the opportunities are endless if you just do a little searching to see what's out there."
Katie and Nicole wrap up their experience at ABS in August.