Serious about play
Aug 27th, 2014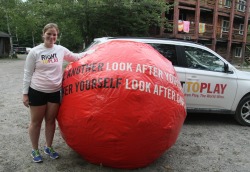 Serious about play
A local chapter of Right to Play, co-founded by kinesiology student Jared Ryan, is gaining momentum on campus. Started last year, the humanitarian organization is getting ready to take part in a national fundraiser this fall and training its volunteers at an international conference.
Engineering student Myfanwy Price travelled to Wahnapitae, Ontario for the conference, the Global Youth Summit (GYS) from Aug. 17-23. It focused on sport for development and peace and its global impact. "It was an incredible experience leaving me inspired, motivated and even more knowledgeable and passionate about Right To Play and the work they do," says Myfanwy.
Right To Play works in over 20 countries around the world including Canada with a mission focused on the use of sport and play to educate and empower children in disadvantaged communities. The Memorial University chapter is new this year.
The GYS hosted 45 delegates from Canada, United States and Switzerland. Workshop topics included equity, advocacy and policy, resiliency and play, refugee camp programs, and learning and teaching Right To Play.
There was also a hands on project focused on mobilizing communities around the power of play including university club sustainability and member involvement and retention. "This was found to be a common problem across the country and I'm really looking forward to implementing our solution here at Memorial," says Myfanwy. "Someone at the summit described development work as a toolbox, and play as just one of the tools necessary for success. I feel that the greater understanding of sport for development and peace is one of the greatest tools I took from the summit."
"Everyone was so passionate, encouraging and dedicated to Right To Play. Everyone came from different backgrounds but came together so nicely for a shared passion," Myfanwy says. "There was so much to learn from each person at the summit, and I'm so glad to have made these friends and contacts, they are great resources for inspiration and ideas."
Right To Play is hosting a nationwide fundraising initiative this fall called Quest #10 featuring world-record marathoner and fundraiser Martin Parnell. Mr. Parnell will be travelling across the country in an effort to set ten Guinness World Records, with all funds raised going to Right To Play. The Memorial Right To Play chapter is looking to set a record on October 14 for the most players in an exhibition ice hockey match during Mr. Parnell's visit. Visit Right to Play Memorial University on Facebook for more information.