Physical Education through dance
Oct 27th, 2015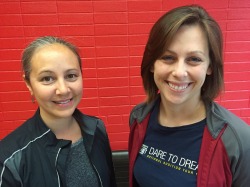 Physical Education through dance
Recently during the National Ballet School's (NBS) annual outreach visit to Newfoundland and Labrador, members stopped by the School of Human Kinetics and Recreation. They facilitated a session with Dr. Erin Cameron's Movement Concepts class.
"We are here at Memorial talking about how to introduce dance into physical education," said Ms. Ashleigh Powell with NBS. "We are showing students that dance is a skill they already have and help them pick out elements of what they are already doing that they can turn into dance movements or dance activities."
Ms. Powell and her colleague Angie Seto talked to the class about dance being basic movement skills and a language that everyone speaks.
"You don't necessarily need to be trained in dance for years to teach dance, do dance or love dance," explained Ms. Powell. "We hope that we light a spark in one or two students so they think dance might be something they want to incorporate more in their lives."
Appreciating dance is not something new for Kaitlin Hobbs who is a student in the Movement Concepts class. She first attended NBS when she was 10. She is pleased her fellow HKR students are getting to experience dance in this way.
"It is awesome that they (the school) can come to Memorial and do classes because they can share their knowledge and wisdom with our students," said Ms. Hobbs. "People who have never danced can gain insight into what dance really is."
Ms. Hobbs is currently a professional dancer locally who has aspirations to continue to dance on the local and national stage.
The NBS's visit to the province is part of a partnership with the Kittwake Dance Theatre.