National research conference talks exercise
Oct 28th, 2014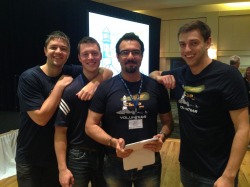 National research conference talks exercise
Organizers of the Canadian Society for Exercise Physiology (CSEP) 2014 conference are calling the event a great success. About 350 professors and trainees came to St. John's from all over Canada as well as the United States and Europe for the annual conference, which took place from Oct. 22-25 and was hosted by the School of Human Kinetics and Recreation (HKR).
For symposium speaker Dr. Lars Anderson this was his second time in St. John's and although the weather left something to be desired, the CSEP conference, Science on the Edge of the Continent, did not. "I think the conference covered well all aspects from basic cellular and molecular mechanisms of exercise, to the practical application of this knowledge in health, fitness and high performance programs. It was great to see the many enthusiastic and skilled students participate and present their work at this conference. This gives hope for future research in this area," noted Dr. Anderson, a professor of musculoskeletal disorders at the National Research Centre for the Working Environment in Copenhagen, Denmark.
Dr. Kevin Power, who co-chaired the conference with Dr. Duane Button, said the highlight for him was seeing HKR alumni present. "We know all of these people personally and to see how far they have come in their work and how it has changed was really interesting."
Several HKR students also presented at the conference. "Many professors mentioned the students and their work, noting just how much they were doing in HKR and how well it was being done," noted Dr. Power. "We're very proud of our students and their efforts in their research and how they represented our labs and HKR."
The conference saw practitioners such as nutritionists and kinesiologists engaging with scientists in an effort to bring research to practice. There was also a roundtable and symposium where CSEP scientists met with physicians and other practitioners to discuss the role of exercise and physical activity in the prevention and treatment of diseases and disorders, such as diabetes.
This is the second time HKR has hosted the CSEP national conference.