MPE graduate takes over as head of PE organization in Quebec's English schools
Jan 17th, 2014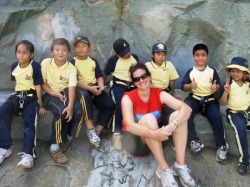 MPE graduate takes over as head of PE organization in Quebec's English schools
"I've always been very passionate about my field and believed in the
importance of quality physical education programs in that they can make such a positive difference in student's lives … Some of my biggest professional role models are people I came to know during my time at MUN. Being a part of APEQ allows me to work with dedicated and passionate teachers in my own province, and becoming president gives me the opportunity to put some of my own goals and ideas for our organization into action."
APEQ's mission is to promote quality physical education for all Quebec students, increase public awareness of the importance of physical education in schools and advocate active living. APEQ represents PE teachers from the nine English school boards throughout Quebec, as well as those who teach at the college level. It is similar to NL's Physical Education Special Interest Council (PESIC).
Katherine looks back on her time at Memorial with fondness. She took an extra year to complete her masters to both finish her thesis but, she admits to play one more year of soccer. "I cherish my memories from my time at MUN. The faculty, staff, and fellow grad students in HKR were like a family to me and I truly loved spending time in the HKR building and seeing faculty and fellow grad students on a daily basis. Although it's possible the social bonds may have had a little something to do with the length of time it took me to complete my degree but totally worth it."
After graduation, Katherine taught PE at a high school in Laval, Quebec for a year. Throughout that year, she was looking for opportunities to teach abroad and got a job teaching K-5 at an American international school in Vietnam for two years. That's when her travels really started.
"One of the exciting things about living in Vietnam was the opportunity to travel to countries in the area at a really low cost. A bus ticket to Cambodia was $18, and I remember flying to Thailand for a weekend for a total of $55. I travelled to Thailand, Cambodia, Laos, Malaysia, Borneo, and Indonesia, as well as different parts of Vietnam, while I was living abroad. Some highlights were spending three days living in a tree house that was only accessible by zip line in Laos, as well as hiking volcanoes in Indonesia." She returned to Montreal in 2010 to teach elementary PE.
Having taken over as APEQ president in May, Katherine says she's trying to network more with other organizations in her province who promote health and wellness. "As a small organization we sometimes fly under the radar, so one of my objectives is to make us more visible amongst our community of related organizations."