Memorial convocation celebrated in Texas
Nov 3rd, 2015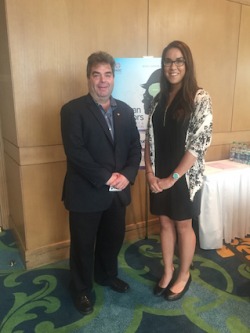 Memorial convocation celebrated in Texas
Dr. Scott MacKinnon, professor with the School of Human Kinetics and Recreation (HKR) on a recent trip to Galveston, Texas was able to help celebrate the convocation of Katie Aylward, Master of Science (Kinesology) graduate with HKR. Both Dr. MacKinnon and Ms. Aylward were attending the same conference.
Ms. Aylward who is currently employed with the American Bureau of Shipping (ABS) located in Houston was unable to attend her fall convocation in St. John's, NL. It was particularly fitting that Dr. MacKinnon was able to share in a small informal ceremony, as he was her graduate supervisor.
They were both attending the International Association of Drilling Contractors conference. It's interesting to note, after 75 years as an association, it was the organization's first Human Factors themed conference. Dr. MacKinnon sat on a panel to discuss issues surrounding safety, productivity and human-machine interfaces.
Read more about Dr. MacKinnon's work here…
Ms. Aylward's graduate work was done in cooperation with the National Research Council in St. John's and Dr. Jonathan Power (an MSc. (Kin) alumnus) and Antonio Simoes Re (a Naval Architecture alumnus) were instrumental in the completion of her master's project. Read more about Ms. Aylward's time at Memorial and how she began working in Houston here...