HKR alumnae donates to health and wellness
Oct 21st, 2014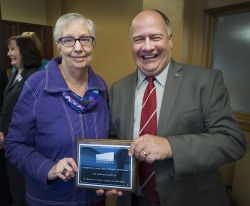 HKR alumnae donates to health and wellness
A long-time supporter of the School of Human Kinetics and Recreation has set up an endowment fund to promote health and wellness throughout the university and the community.
Joyce (Noel) O'Doherty is hoping the Integrated Health and Wellness Fund in Human Kinetics and Recreation will help foster and promote a deeper understanding of integrated health and wellness within Memorial and throughout Newfoundland and Labrador.
At a recent reception to recognize Ms. O'Doherty and her committment to HKR, Dean Heather Carnahan presented a plaque, which will hang in the hallway of the physical education building. "We're so pleased the school has long-time friends like Joyce and we're hoping this will encourage our other alumni to give back to the school in any way they can. We want them to be involved."
Ms. O'Doherty has been an advocate of health and wellness for decades. Now living in British Columbia, she is a holistic practitioner who has been taught by experts from the United States and India, and has worked with lepers and with the House of Mother Theresa in Calcutta.
Ms. O'Doherty has a long history and connection with HKR. She has a certificate in physical education (1961), a bachelor of physical education (1968) as well as a bachelor of education (1969). In 2011, she was a guest at the HKR alumni reunion, Fifty years within these walls, and cut the celebratory cake at that event.
During Ms. O'Doherty's time at Memorial she was on the varsity basketball, volleyball and badminton teams. She also participated in intramural sports. She taught physical education at Gander Academy from 1962 to 1964 and taught teaching methodologies in the Department of Physical Education (now HKR) from 1968-1970 as well as coaching basketball, badminton and volleyball. Ms. O'Doherty attended graduate studies at the University of Wisconsin, Madison.