Frontiers of science: Major coup for HKR alumnus
Nov 19th, 2015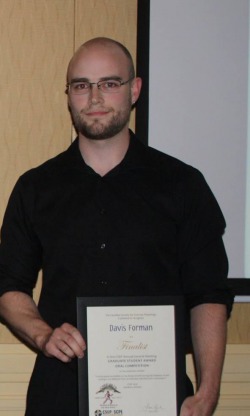 Frontiers of science: Major coup for HKR alumnus
For alumnus Davis Forman it was a major research coup and he credits the School of Human Kinetics (HKR) for helping foster that success.
This fall, Mr. Forman, who graduated this year with his M.Sc. (Kinesiology) in exercise and work physiology, was one of only four gradate students in Canada chosen to compete for the graduate award competition at the Canadian Society for Exercise Physiology (CSEP) conference, in Hamilton, Ont.
It was a big deal.
In the competition's 15-year history, very few master's students have been chosen to compete; most are PhD students. Mr. Forman competed against three doctoral students.
He Forman says making the final four was a triumph for him and HKR.
"One of the best things in academia is getting the chance to share your work with colleagues both within and outside of your institution," he said from Oshawa, Ont., where he is completing his PhD at the University of Ontario Institute of Technology (UOIT).
"As a researcher, we spend so much of our time stuck in a lab, focused on our own work and our own questions. I put a great deal of time and effort into the work that I do, so it's certainly rewarding when I get an opportunity to show it off. The experience of standing on the frontier of knowledge is truly unique to the world of science."
Mr. Forman presented his research focused on the physiology of the central nervous system – the brain and spinal cord – and how it functions during rhythmic movements, such as walking and cycling.
"The specific purpose of this project was to examine the neural changes that occur during rhythmic arm cycling as we progress from rest to continuous movement," he noted. "Our results demonstrated that unique qualities develop as rhythmic movement progresses, qualities that are not present in non-rhythmic motor outputs, such as static or isometric contractions. These novel findings may one day form the basis for new treatments, or guide rehabilitative strategies, for people suffering from neurological impairments."
He describes presenting in front of such a large audience as a "phenomenal experience."
Mr. Forman completed his master's research under the supervision of Dr. Kevin Power, assistant professor, HKR, and a fellow Memorial alumnus. They first met when Dr. Power was an assistant professor of kinesiology at UOIT.
After taking up a post at Memorial, Dr. Power enticed Mr. Forman to pursue graduate studies in HKR.
"During my two years at Memorial, I had the incredible experience of working alongside Dr. Power on a number of studies as part of his research program," said Mr. Forman. "This was an opportunity I wouldn't have gotten anywhere else. I truly and sincerely believe that I received the best education I possibly could have at the master's level and it was largely due to his mentorship."
For his part, Dr. Power says it is "virtually unheard of," for a master's student to be chosen for the CSEP competition. Despite the rivalry from other larger post-secondary institutions, he says Mr. Forman represented HKR and Memorial "extremely well and brought our research to the forefront."
"He opened a lot of eyes," Dr. Power said. "I am extremely proud of Davis and his accomplishments. I am excited to see where his research takes him and how his future in academia unfolds.
"My only concern about students like Davis leaving HKR is that I may someday have to compete with them for research grants once they begin their own research careers as professors," Dr. Power added. "I think I'll have my work cut out for me."