Exploring Movement
Nov 23rd, 2015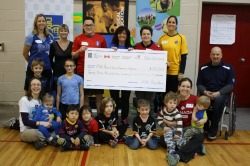 Exploring Movement
The School of Human Kinetics and Recreation (HKR), as part of RBC Sports Day in Canada hosted HIPP 2B Healthy. A highlight of the Nov. 21 event included a chance to meet Paralympic three time gold medalist Dave Durepos (photograph), as well as opportunities to try new sports in a family fun environment.
Mr. Durepos demonstrated his sport, wheelchair basketball, and gave children attending the opportunity to try. He also discussed the benefit to able-bodied children trying wheelchair basketball and described it as reverse inclusion.
"All children can play along side each other and that's so rewarding for all children," said Mr. Durepos. "I love watching the kids and the smiles on their faces while trying all different sports, and you never know that might become a sport they are really passionate about."
RBC representatives were on hand to present the HKR PLAY project (Physical Literacy for All Youth in NL) with a $23,200 RBC Learn to Play Project grant to revise the Physical Literacy Experience (PLE) program. The grant is made possible through RBC, the Public Health Agency of Canada, and ParticipACTION.
PLE is part of the experiential learning for HKR students in physical education and recreation, which provides opportunities for young children and their parents/guardians to explore movement activities, and for undergraduate and graduate students to observe and interact with young children in a movement environment.
"This grant will help us to revise the Physical Literacy Experience program," said Dr. TA Loeffler. "PLE has been running for 20 years but there is a desire to see what we could do to help reenergize the program in the future to reach more diverse populations and various communities in NL."
The HIPP 2B Healthy event also celebrated healthy active living with the formal launch of the HIPP (Health Innovation through Promotion and Practice) Collaborative. The HIPP Collaborative is a new initiative started by faculty within HKR dedicated to enhancing health promotion in the province by bridging research-policy-practice locally, nationally, and internationally.