Accessing the great outdoors
Sep 14th, 2015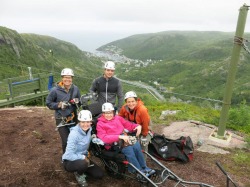 Accessing the great outdoors
Learning through real life hands on experience provides students with an effective opportunity to apply what they are exploring in class.
Courses in the School of Human Kinetics and Recreation and particularly, Dr. TA Loeffler's classes, frequently provide opportunities for this type of experiential learning.
This past summer, Ms. Jaymee Webster was a student in Dr. Loeffler's Therapeutic Recreation in Outdoor Settings class. The course focused on providing students with the knowledge and skills necessary to practice therapeutic recreation in outdoor settings.
"Dr. Loeffler assigned the class with a case study where students had to plan and implement a therapeutic recreation experience," explained Jaymee. "She mentioned in class that a friend of hers with a disability was interested in zip lining and that someone could plan this outing as their project. I've had great experiences with ziplining in the past so this sounded like a good fit for me."
The friend Dr. Loeffler mentioned for this opportunity is Kim White who is also manager of strategic initiatives with The Coalition of Persons with Disabilities – Newfoundland and Labrador (COD-NL). Kim uses braces and crutches for mobility.
"I think it's vastly important for persons with disabilities to have opportunities to experience recreation activities, especially those outdoors, and it's something that needs to be broadly supported," said Kim. "Outdoor experiences connect us to nature and the awe of the world, but often persons with disabilities are left out of outdoor activities, and that means missing out on a whole lot of learning, development and fun that help build knowledge, skills, and confidence."
For Jaymee, the project was an opportunity to work through all stages of planning an outdoor experience focused on using the TrailRider to provide access to the zip lining experience for someone with mobility challenges. The TrailRider is a single tire wheelchair that allows individuals with mobility disabilities to access trails, go hiking and in this case reach the first line of the zip line course.
"I learned a great deal about how much planning is involved for inclusive recreation experiences. Even though I thought I had considered everything, I was assessing and problem solving throughout the entire experience," said Jaymee. "The most rewarding part of this experience was seeing the enthusiasm of the operators of North Atlantic Zip Lines who were welcoming and interested in the TrailRider we used and they may decide to make their course more accessible in the future."
For Kim, it was an opportunity to try something new.
"Even though I knew there were zip lines in Newfoundland, I never really thought I'd be able to access them. This experience was awesome," said Kim. "TA brings an inclusion lens to all she does, it comes natural to her. Others need to be supported to be able to apply this same lens to recreation activities and beyond, so it's incredibly awesome that she is bringing that perspective to her students."
Through this project, Jaymee explored the importance of everyone with or without disabilities needing opportunities for recreational experiences. Life experiences help people explore who they are and what the world is all about and their role in the world.