Asphalt Laboratory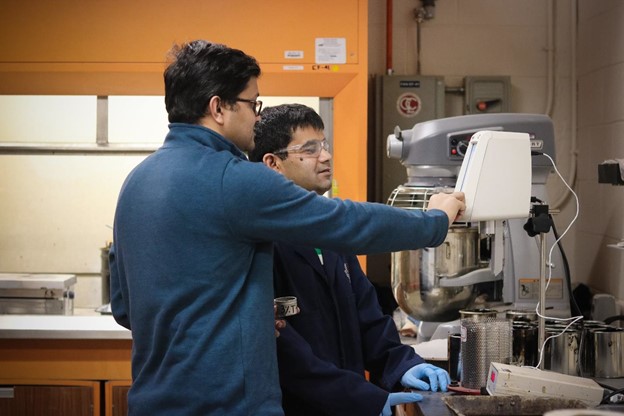 About
The major objective of the pavement engineering research at the Memorial University of Newfoundland is to contribute to the development of sustainable roads and highways in Canada. Professor Dr. Kamal Hossain and his research group, Advanced Road and Transporation Engineering Lab (ARTEL) conduct research in multiple areas of pavement engineering. The research group focuses on the development and use of more sustainable pavement materials and alterative design technologies and science-based pavement and highway management practices.
To learn more about ARTEL, click here.
People
Pavement Performance & Sustainability

Asphalt Characterization & Modeling

Pavement Mechanics

Nano Materials & Smart Pavements

Pavement Asset Management

Highway Maintenance and Road Safety
Equipment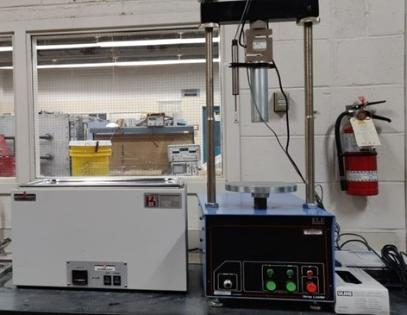 ITS Testing Machine is used to determine the tensile strength of compacted bituminous mixtures. It can also be used in multiple experiments like Quick Undrained Triaxial, Unconfined Compression and CBR testing with proper accessories.
Specifications:
High precision load cell, class 1, and class 0.5 calibration
1/50,000 force resolution
0.5~60 mm/min test speed (upgradable option)
User-friendly remote for chuck control
Overload protection limit sensor
Emergency power cut off button
Interchangeable tensile insert grip system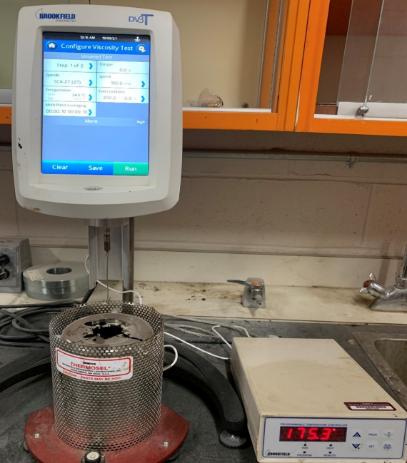 The rotational viscometer is used to measure the viscosity of a fluid. At a constant speed, torque is produced to rotate a spindle submerged in a fluid. Time-dependent fluid analysis has been conducted with the continuous rotation of the spindle. For materials with low, medium, and high viscosity digital models can be used.
Specifications:
Using Rotational Viscometer, AASHTO T 316 and ASTM D 4402 can be conducted.
Spindle barcode for auto spindle recognition
Quick and easy automatic or manual gap setting
Quick profiling of viscosity vs. temperature
User-friendly LCD touch screen with graphical display
11 memory slots for structured multi-step test programs
Auto spindle identity recognition
Quick connect coupling for easy spindle attachment
Temperature control from -20°C to180°C
Maximum Torque: 100 mN·m
Torque Resolution: 0.15 μ N·m
Speed: 0.01-1,300 rpm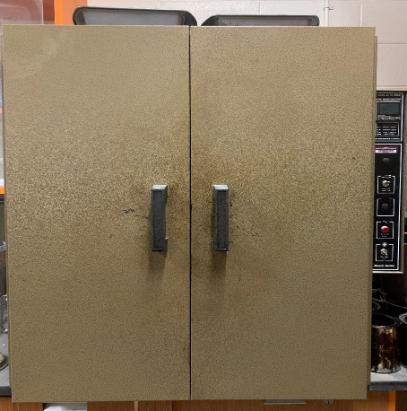 The convection oven is used for drying, preheating, curing, dehydrating, aging and many other processes.
Specifications:
All bench ovens have aluminized interiors. High impact thermoplastic cool handles are used
Volume: 10.6 cubic feet
Temperatures up to 550 °F (287 °C)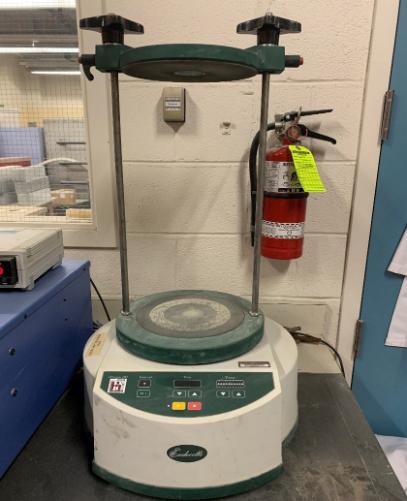 The sieve shaker is used for sieving tasks in laboratories. It provides fast and reproducible results for optimum sieving action. It is very with an electromagnetic drive combined with a 3D sieving motion. The quick-release clamping system and digital display make it easier to use.
Specifications:
Range: 20 μm to 125 mm
Drive / sieving motion: Electromagnetic 3D
Max. batch / feed capacity: 3 kg
Max. number of sieves: 8 full height / 16 half height (200 mm/8" sieves)
Amplitude: 0 - 3 mm* digital setting in 10 steps
Speed: 3,000 min-1 at 50 Hz
Time display: Digital, 00:10-99:50 min
Suitable for both dry and wet sieving.
No Serial interfaces.
Sieve diameter:100/200 mm
Max. height of sieve stack: up to 450 mm
Clamping device: quick-release clamping system (included)
Electrical supply: Different voltages available
Power connection:1 - Phase
W x H x D: 418 x 232 x 435 mm
Net weight: Approximately 35 k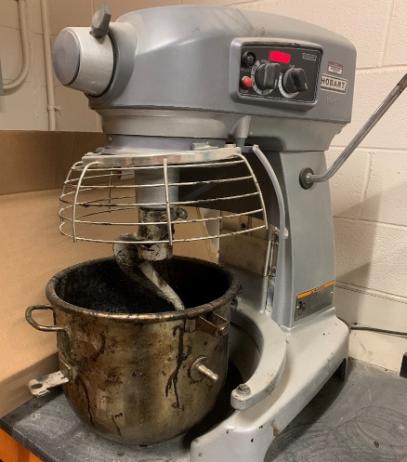 This mixer offers greater efficiency with a large-capacity bowl and a high-speed setting while mixing. For convenient use, there is a paddle, wire whip, hook, and stainless-steel bowl. In order to confirm safety, there is a safety guard and overload protection switch. This mixer can operate at three different speeds.
Specifications:
Bowl Capacity: 20 Qt
Electrical: 110 V / 60 Hz / 1 Ph
Height: 30.5"
Width: 16"
Length: 21.5"
Material: Stainless Steel
Power: 1.5 HP / 1.12 kW
Product Weight: 262.0 k
Shaft Speed: 1st Speed 108, 2nd Speed 195, and 3rd Speed 355 rpm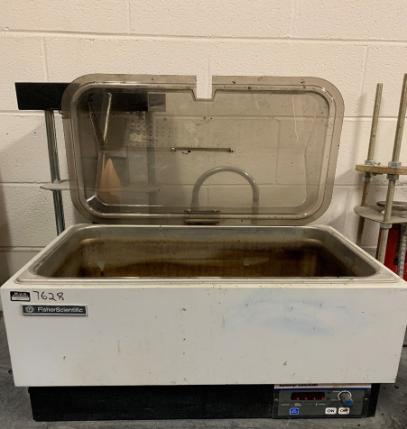 Thermo Waterbath offers outstanding temperature control. It is very reliable with a wide range of capacities to support a variety of applications. It is very user friendly with icon-based display. It also has some safety features.
Specifications:
Ambient to 100 °C ± 0.1 °C stability
± 0.2 °C to ± 0.05 °C Uniformity
Volume: 89 L
5/10 L dual bath
Voltage: 120V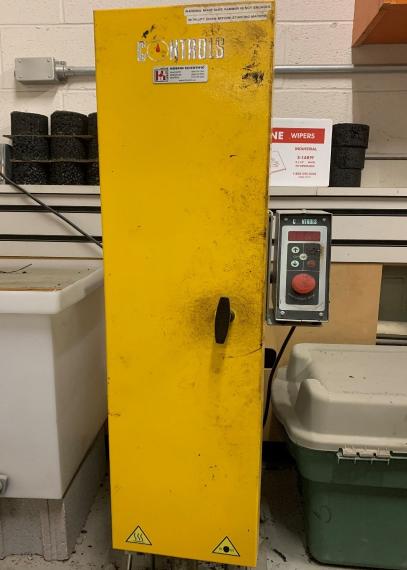 Marshall Compactor is used to compact the sample and after the completion of the required number of blows, it stops automatically. Safety is ensured by using a safety guard for all moving parts and an emergency stop red button whenever the compactor needs to stop.
Specifications:
Can be used for ASTM D1559, AASHTO T245, ASTM D6926
A noise reduction cabinet is available
CE versions complete with safety guards for operator protection and emergency stop button
Model: 76-B4424
Power rating: 800 W
Drop frequency (lows/min): 55 ± 5
Tamping face dia.: 98.5 mm
Rammer weight: 4536 ± 9 g
Drop height: 457 ± 3 mm
Overall dimensions: 385x470x1867 mm
Weight approx.: 150 kg
Location
EN 1026C
Faculty of Engineering and Applied Science
Memorial University of Newfoundland
St. John's, NL