What is CCLAS?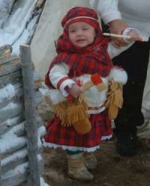 The Chisasibi Child Language Acquisition Study (CCLAS) began in 2004, and is located in the Cree community of Chisasibi, Quebec, in the Cree territory of Eeyou Istchee. CCLAS is a longitudinal naturalistic study of how children acquire (Northern East) Cree.
Our first acknowledgement goes to the families who volunteered to participate in this study. The project would not have been possible without their (continuing) generosity, patience and understanding. We extend our biggest thanks to the children and their families. Special thanks also go to the Cree School Board for their support over the years since we began, and for their hospitailty while we are in Chisasibi. For primary funding, CCLAS gratefully acknowledges the Social Sciences and Humanities Council for Canada (SSHRC):
2004-08: SSHRC Standard Research Grant 410-2004-1836
2008-12: SSHRC Standard Research Grant 410-2008-0378
2013-present: SSHRC Insight Grant 435-2013-1297
The core CCLAS research team consists of Julie Brittain (Project Director), Carrie Dyck, Yvan Rose and Marguerite MacKenzie (Memorial University of Newfoundland).
Our work would not be possible without the assistance of many people, first and foremost our Cree colleagues Cree language experts, and our talented graduate students, and undergraduate students. More information about student participation in CCLAS is posted at people/graduate_students.
The CCLAS project offers the opportunity for research at the M.A. and Ph.D. level.
Current areas of interest
Here are some of the topics we have focused on or are currently working on:
the passive construction
care-giver/child-directed speech
possession/nominal morphology
preverbs
See Project Output for publications, theses and presentations in these areas.
Any of the team members may be contacted at the e-addresses below, or through the Linguistics Department at Memorial University. Julie Brittain oversees the project administration and is the principal contact person for CCLAS.
Julie Brittain: brittain@mun.ca
Carrie Dyck: cdyck@mun.ca
Yvan Rose: yrose@mun.ca
Marguerite MacKenzie: mmackenz@mun.ca
Department of Linguistics
Memorial University
St. John's, NL A1B 3X9
Canada
Tel: 709-864-8134
Fax: 709-864-4000