Virtually unstoppable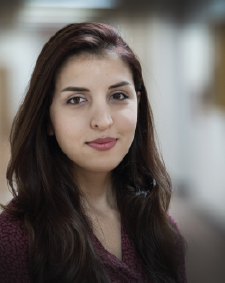 Afsaneh Rafighi came to Canada from her home in Mashhad, Iran to begin a Masters in Computer Science in the fall of 2013.
She chose Memorial because she shared research interests in computer vision with Dr. Oscar Meruvia-Pastor, her supervisor.
Ms. Rafighi's research involves implementing a calibration free system of multiple Kinect cameras that have applications in gaming and virtual reality. Normally, to be able to use multiple cameras, a calibration stage is required which is time consuming and requires extensive knowledge. She says her work is significant since it doesn't require the calibration phase, making it more suited to real time applications.
Dr. Meruvia-Pastor was also able to support her with funding, which she says is an important consideration for many international students.
"I wanted to study in Canada because the country is known for its diverse culture and ability to make international students feel less like strangers," she said. "However, I had never actually been here before and did not know much about Newfoundland and Labrador. But once I moved here, it felt very much like home as every one was nice and kind."
After spending the last few years here, Ms. Rafighi says she is even more in love with Canada because it is a land of opportunity where people can follow their dreams if they work hard.
"I call Newfoundland and Labrador my second hometown," she said. "Even if I have to move to another province someday, I will always think of this place as my second home.
She says she has gotten the chance to meet people of many different backgrounds and cultures while at Memorial and used the opportunity to not only make great friends, but also to learn from those cultures. Getting involved in different events on campus has also helped her to grow her network, find friends and learn valuable social skills.
"I love being at Memorial University – spending time in my office, doing research, meeting friends for lunch, going to gym and getting involved on campus," said Ms. Rafighi. "I often spend my whole day at university and enjoy it completely."
She believes some of the best things about being a graduate student is having independence in scheduling her own day and the many opportunities to gain research and technical experiences from courses, research and conferences.
Upon completing her degree Ms. Rafighi hopes to begin her career in Canada and use the knowledge she has gained in this country. She encourages students considering graduate studies at Memorial to work hard and make the most of their time here.
"Time does not go back, so try to use it as best as you can to be outstanding in your major," she said. "Don't be afraid to ask questions. Professors are always willing to help you to the best of their abilities.
"Study hard but don't be one-sided, try to be as active as possible and get involved. Your time as a student is the best time to build your personality, find friends and gain team work and leadership skills. After all, these skills are going to help prepare you best for your future career."
Become a graduate student at Memorial. Apply online today!