Time master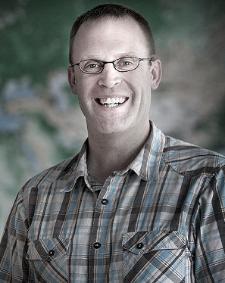 The key to juggling a full-time job, raising a young family and completing a hectic research schedule as part of intense graduate studies is all about striking the right balance, says master's student Eric Watton.
He's also quick to admit his supportive wife, who encouraged his academic pursuits, made his decision to complete a degree in environmental science manageable.
Mr. Watton, who is originally from Clarenville, N.L., and now lives in St. John's, works full-time as an environmental scientist with the provincial Department of Environment and Conservation. Over the past couple of years, he's been completing coursework, studying during evenings, weekends and on work holidays, while conducting field research during longer summer evenings.
It's been chaotic at times, but he has no regrets.
He says he was ultimately attracted to Memorial's master's program because of his own passion for the environment as well as the chance to collaborate with high-calibre and respected researchers such as Dr. Norm Catto, his supervisor and current head of geography.
"People like Dr. Catto have – and continue – to inspire me, academically and in my job," said Mr. Watton, who holds a bachelor of science degree as well as a criminology certificate from Memorial. "He has done very significant work with all levels of government and is highly respected. He is one of the leading researchers and professors in coastal processes, sea level, mitigation and many other areas."
Mr. Watton is examining the effects of coastal erosion on rural parts of province – particularly communities like Ferryland, which rely heavily on tourism for economic development. Coastal erosion has the potential to affect the future of many seaside communities, which are susceptible to erosion from higher sea levels or damaging storms.
"In a nutshell, heritage resources are being eroded, tourism sites are being impacted and there's damage to infrastructure such as wharfs and breakwaters," Mr. Watton added.
In addition to the practical side of his research, Mr. Watton says he has also gained a greater appreciation for our province's past, including re-discovering a pair of historic cannons along the rugged cliffs off Ferryland.
Mr. Watton says graduate school has been particularly meaningful for him.
"I really enjoy applying my accumulated knowledge and field experience to help the public," he explained. "The interdisciplinary graduate degree has provided the perfect opportunity to do this outside my job."
"I work in the public service and believe in helping the public wherever possible," he added.
Mr. Watton hopes to graduate this fall or next spring.
Become a graduate student at Memorial. Apply online today!