The future of folklore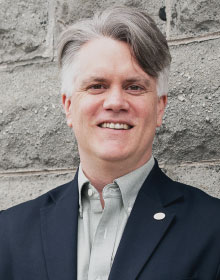 Dale Jarvis, MA'01, who you may recognize as the proprietor of the St. John's Haunted Hike, came to Memorial due to the good reputation of the graduate programs in archaeology and folklore. This is in large part thanks to Dr. Gerald Pocius, a now-retired research professor with the Department of Folklore who was awarded the 2017 Marius-Barbeau Medal, which recognizes remarkable lifetime contributions to Canadian folklore.
Mr. Jarvis credits his time at Memorial for turning his passion for culture and storytelling into a career. From Memorial student to the provincial folklorist for Newfoundland and Labrador, he now even teaches a course through the Department of Folklore, inspiring the next generation of folklorists in the province.
Why did you choose Memorial for graduate studies?
Location was a huge part of me choosing Memorial for graduate studies. I wanted to live in Newfoundland and study here. I had done my bachelor of science in archaeology at Trent University in Ontario, but I knew that Memorial had good graduate programs in archaeology and folklore.
What was your degree program and area of specialization? Why did you choose this area of study?
I pursued the master of arts thesis stream in the Department of Folklore, and specifically choose that department because of the work of Dr. Gerald Pocius in vernacular architecture studies. I was very interested in the meanings of material culture and folk architecture, and it seemed like the perfect fit.
How would you describe your experience as a graduate student at Memorial?
I was part of a great cohort of graduate students, who made my student years memorable! I also had the opportunity to work a fair bit as a student in the MUN Folklore and Language Archives (MUNFLA) which certainly deepened the love and respect I have for archives and the work they do.
What were some of your accomplishments during your graduate degree?
My thesis research was on architectural change in Moravian Labrador, which meant I had the amazing opportunity to travel and do research in many of the current and former Moravian mission stations: Ramah, Hebron, Zoar Bay, Nain, Hopedale, Double Island, Happy Valley and Northwest River. It was a life-changing experience, and gave me a deep love of community research. It also turned me into a huge fan of northern Labrador, and I tell everyone who will listen that it is absolutely the most beautiful part of our province.
Did you get a job directly after graduating?
While I was a student, I started volunteering with the Heritage Foundation of Newfoundland and Labrador (HFNL). The summer I was doing my architectural research, HFNL was undertaking an architectural survey on the Bonavista Peninsula. I worked on that project, continued to work for them as a summer intern, and then started working with them full-time. I was very lucky to get a job in my field even before graduation!
How did Memorial help to get you where you are today?
Currently, I work as the provincial folklorist for Newfoundland and Labrador, and I owe a lot of that to the Department of Folklore at Memorial. This province was the first in Canada to have a full-time intangible cultural heritage development officer, and that position and the office I now run grew out of work that was aided and guided by faculty and staff at Memorial. I've been fortunate enough to be able to go back to Memorial to guest lecture, work with students on research projects, hire co-op placement interns and recent graduates, and most recently, to teach the graduate level course FOLK6740 Public Folklore, hopefully inspiring the next generation of public folklorists.
What advice do you have for current and/or future graduate students?
Work experience is crucial. Get out of the university and get involved in the community or field that you wish to pursue. I started out with volunteer work and internships, and managed to turn those into a full-time job and career. Pursue what you love, develop your entrepreneurial spirit, and share your passion for what you do.
Become a graduate student at Memorial. Apply online today!