That's amore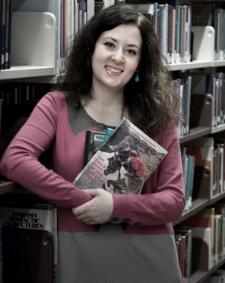 Francesca Boschetti first came to Newfoundland and Labrador from Piedmont, a region in Northwestern Italy, in August 2010 to visit a friend.
Little did she know at the time, her vacation would spark the journey of a lifetime.
After travelling to Canada and visiting the city of St. John's, Ms. Boschetti quickly decided it was where she wanted to be.
"I fell in love with the place and the kindness of its inhabitants," said the PhD candidate in Memorial's Department of English. "As soon as I defended my master's thesis in European and American languages and literature in Italy, I flew back to St. John's."
Ms. Boschetti worked in the capital city for six months, during which she obtained a teaching position within a division of Memorial. She became familiar with the university and was impressed by the resources it offered, and decided to enrol as a graduate student in the Faculty of Arts. Upon completion of her master's degree in 2013, Ms. Boschetti enrolled as a PhD candidate in the Department of English, under the supervision of Dr. Nancy Pedri. She is currently conducting research on Canadian immigrant literature by examining literary representations of female hyphenated Canadian identities in the late 20th and 21st centuries.
While at Memorial, Ms. Boschetti has won numerous awards and scholarships, including the 2013 and 2014 International Student Resource Centre Scholarship Award, the Women's Association of Memorial University Graduate Student Scholarship (PhD program) and the Women's Association of Memorial University Graduate Student Scholarship (MA program). In addition, she has presented seven academic papers at local, national and international conferences.
In her spare time, Ms. Boschetti enjoys getting involved on campus and maintaining a healthy work-life balance.
"International graduate students not only have to face the challenges encountered by their fellow Canadian students, but they have to deal with cultural differences, high expectations and immigration requirements," she said. "Therefore, while international students should definitely stay focused and put a lot of effort into their programs, they should also keep in mind that they need to be kind to themselves and find time to relax and have fun."
Ms. Boschetti has held the first vice-president position in Memorial's teaching assistants' union (TAUMUN) for the past two years, was a member of the TAUMUN bargaining team during the negotiation of a new collective agreement with the university for 2013-14 and has served as the arts graduate student representative on the Faculty of Arts' Faculty Council since 2013. She also takes part in various workshops, seminars and professional development opportunities available to graduate students.
"What I like the most about being a graduate student at Memorial are the many opportunities that we are provided with on a daily basis," she said. "Workshops, talks, certificate programs, events… all these opportunities help us complement the skills acquired through our own programs, which I am sure will be extremely helpful when looking for a job after graduation."
After she completes her PhD, Ms. Boschetti hopes to stay in Newfoundland and Labrador and obtain a permanent teaching position at Memorial. Through her teaching, she hopes to inspire future generations of international and Canadian students.
Become a graduate student at Memorial. Apply online today!