Technically peaking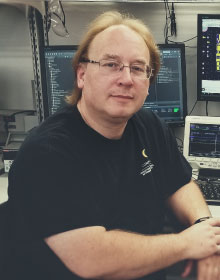 Ig Kolenko spent several years as a software engineer (and as an entrepreneur) before becoming a full-time professor at Conestoga College in Kitchener, ON in 2003. Since then, he has become the College's Director of the Centre for Smart Manufacturing and is enhancing his career by pursuing a Master of Technology Management at Memorial. With this flexible, online program, Ig is gaining knowledge that is directly applicable to his day-to-day work in academic and research management and pairs perfectly with his industry experience.
Where you are from?
I was born and raised in Kitchener, Ontario. My family moved a couple of times between Kitchener and Waterloo, eventually settling in Waterloo.
Where, and in what area, did you do your undergraduate or previous graduate work?
I went to University of Waterloo (UW) where I earned my Bachelor of Applied Science in Computer Engineering, graduating in 1990. As UW was (and still is) one of the premier engineering schools with co-op work placements, I found a connection with industry and a strong pull to immediately begin applying my engineering knowledge and skills upon graduation. I earned my Professional Engineering (P.Eng.) license in 1992 through Professional Engineers Ontario (PEO).
Why did you choose to pursue a graduate degree?
As I entered industry immediately after graduation and eventually started my own software consulting company in 1994, a graduate degree was something that didn't cross my mind at that time. I was eventually hired by Conestoga College in Kitchener Ontario in 2003 as a full-time professor to teach in the new Software Engineering Technology program I created for the college. Graduate degrees were not a requirement for faculty at that time as industry experience was highly sought after among college faculty.

Now that I've moved into academic and research management at Conestoga, I decided this was the right time to work towards a master's degree, which would complement the administrative work and leadership opportunities at the college.
When did you first come to Memorial?
I first started my program at Memorial University in 2017.
Why did you choose Memorial for graduate studies?
Memorial had connected with Conestoga a number of years ago to promote various online master's degree opportunities to our students, and some of these programs were quite interesting. To complement my administrative work, I was hoping to find a school that offered a flexible, online opportunity for technology management as, at the time, I had just moved into my new role as Director of the Centre for Smart Manufacturing (CSM), which oversees Conestoga's applied research in technology solutions for manufacturing. Memorial fit the bill!
Which program at Memorial are you completing?
I am completing the Master of Technology Management (MTM) program. This was a perfect fit for my work as Director of our CSM, and each course I've taken thus far in the program has supported my day-to-day work. I honestly couldn't have found a more perfect fit for a master's program than MTM!
Why did you choose this area of study?
The courses within the MTM program are directly applicable to the day-to-day work in our research department at the college. As I essentially "taught myself" all the basics of management over the years I ran my consulting company, I was finally able to formalize my knowledge base through this program, and I can now apply this formalized knowledge in my research work with industry.
How would you describe your experience as a graduate student at Memorial?
As I am taking this program online from Ontario, I have found the experience both fascinating and rewarding. The opportunity to collaborate with my fellow classmates from all over Canada and beyond has been extremely rewarding. The course content is highly relevant, and the faculty members teaching these courses have been excellent. My favourite part of each course is the online discussion forums – what an incredible opportunity to learn from my peers!
What will the topic of your research project be about?
I am in the project stream of the MTM program, and I hope to be taking the project course in the Winter 2020 semester. Pending approval, my research project will examine the state of readiness of the Waterloo Region manufacturing sector to adopt "Industry 4.0" technologies and solutions. In our research work with manufacturers, we've seen limited uptake of "Industry 4.0" in local SMEs (small to medium-sized enterprises). I would like to research why this is the case, and make recommendations to these SMEs on how to best manage the adoption of technologies to achieve the expected results and process improvements that "Industry 4.0" promises. The impact of this research project should be wide-spread and hopefully it will assist our manufacturing sector in the region to increase competitiveness, productivity and capacity.
Why did you choose this research topic?
The research topic is a direct fit for my work in our applied research. I hope to leverage the findings from my research to inform our future applied research opportunities with industry. I hope that it may also inform future academic program opportunities at the college to provide job-ready knowledge and skills to future graduates.
Have you received any awards, scholarships or honours?
My last award was in 2011. I received the Aubrey Hagar Distinguished Teaching Award for my work as professor in the Software Engineering Technology program at Conestoga. This is an internal college award that recognizes outstanding educators and is handed out on an annual basis. I felt humbled to be added to a list of truly amazing educators!

Are there any difficulties in life that you've overcome to pursue graduate studies?
The biggest challenge is time management. My job as Director consumes my full-time hours, and I still teach one course per semester at the college on top of this. I have a wife, two sons, and a daughter who is getting married this year, so plenty of time needs to be devoted to family and friends. On top of this, I've been able to squeeze in one course at Memorial per semester. It's been fun to see both sides of education in the past 2 years; as a teacher at Conestoga as well as a student at Memorial. Best of all worlds!
What are you planning to do after you complete your degree?
With successful completion of the degree, I look forward to attending convocation at Memorial. Newfoundland and Labrador is one province I have yet to visit, so I look forward to the opportunity to be out east for that. The MTM degree will provide major dividends in my day-to-day work, and I definitely look forward to using the knowledge and skills learned in this program in my work as Director in our applied research at Conestoga.
Do you have any advice for current and/or future graduate students?
I find education is "easy" if you have a passion for learning. Find the right program that matches your passions and relish the opportunity to learn from your faculty and peers. Life-long learning is here to stay, and the pace of technological change means that the jobs you will be seeking upon graduation perhaps do not even exist today. We Canadians are blessed with some amazing educational institutions across the country and the future is indeed ours to take.
Become a graduate student at Memorial. Apply online today!