Programmed to succeed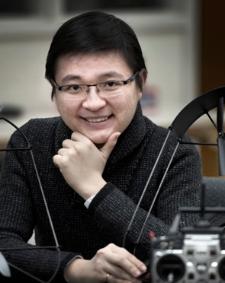 For many students, choosing where to attend graduate school can be difficult. For master's student Trung Nguyen, however, it was easy. He says Memorial University chose him.
Mr. Nguyen relocated from Ho Chi Minh City, Vietnam to St. John's, in September 2012 to purse a master's degree in mechanical engineering at Memorial.
"I contacted many professors around the world in order to find funding for my research, which makes life easier to keep following my education and research in the robotics field," said Mr. Nguyen. "Dr. George Mann was one of the professors from Memorial who responded to me. Having discussed the research for a while, I found that we were both following the same path and on the same page. Therefore, I decided to come to Canada to work with him in the Intelligent Systems Lab in the Faculty of Engineering and Applied Science."
The journey to Canada and Newfoundland and Labrador was long, but exciting. Mr. Nguyen says he relied on the support of his peers to settle into his new life.
"My first impression was the kindness and friendliness of people here in St. John's. I was picked up and helped out by my lab partners. The city is so beautiful and different from my city and country."
Mr. Nguyen quickly became acquainted with campus and other students, and the professors who he would work with over the following two years. He saw the potential for himself and his research at Memorial and embraced the various opportunities that became available.
"Memorial University's campus is very comprehensive, convenient and multicultural," he said. "Students are from all over the world. They are full of energy and very dedicated. The professors and university staff are absolutely kind and helpful."
During the duration of his master's degree, Mr. Nguyen received numerous scholarships and awards, including a RDC Ocean Industries Student Research Scholarship Award (2014-18), a Financial Support Award for Master Scholarship (2012-14), a TIS Kitagawa Scholarship for Excellent Research Achievement (2011), a Toyota Scholarship for Excellent Academic Result (2011), a Student Scientific Research Award by Vietnam Minister of Ministry of Education and Training (2009), was named a Fellow of the School of Graduate Studies and awarded a MUN Mentors certificate of distinction.
In addition to these awards, Mr. Nguyen held various on-campus positions, including doctoral researcher and master researcher at the Intelligent Systems Lab, teaching assistant in the Faculty of Engineering and Applied Science and tutor at the Cahill Engineering Help One Centre.
He was also actively involved on campus with the MUN Mentors program within the International Student Advising Office and was the founder of the MUN Vietnamese Association.
"I always try pushing myself to higher levels of confidence and achievement," he said. "Being social provides invaluable opportunities to meet brilliant people, to get creative solutions and to train myself in essential skills."
Following the completion of his master's degree in October 2014, Mr. Nguyen enrolled as a PhD student in mechanical engineering under the supervision of Dr. George Mann and Dr. Ray Gosine. He hopes to complete his research and graduate by 2019.
Become a graduate student at Memorial. Apply online today!