Politics and popcorn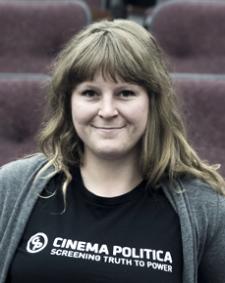 Since moving to Newfoundland from Ottawa three and a half years ago, arts grad student Paula Graham has proved herself to be a vital member of the Memorial and the St. John's communities.
A PhD candidate in sociology, in 2013 Ms. Graham launched Cinema Politica St. John's, a local chapter of a grassroots organization based in Montreal that screens social/political documentaries to the public for free.
Interested in social movement and activism, Ms. Graham believes that documentaries are both accessible and powerful forms of media.
"A filmmaker is an artist – films can get in depth and interview people you are not going to see in the news or read in a newspaper," said Ms. Graham. "Cinema Politica St. John's is my proudest accomplishment since moving to the city- it fills a much needed gap in the city (a non-commercial movie experience) and so many different people from so many different backgrounds, groups, and political leanings have come to film screenings and participated in the discussions we have after each film."
In addition to her community work, Ms. Graham has received the Women's Association of Memorial award, the Peter Hart Memorial Scholarship, the GSU Leadership Award, and is now funded by a SSHRC Doctoral Fellowship.
A social activist, Ms. Graham was applying for her PhD at the height of the Occupy Movement and was inspired to come to St. John's by its distinction as having Canada's longest-running Occupy camp.
"I knew that the activists there had done some events that mixed politics and art, which is what I am passionate about the most, in terms of both academic research and my personal interests," said Ms. Graham. "I was also drawn to MUN because of my supervisor, Dr. Mark Stoddart, who does research on social movements and the environment and who has himself been an activist in the past."
As both an activist and someone who studies activism, it's not surprising that Ms. Graham doesn't believe in the so-called "work-life balance."
"When we talk about 'work' and 'life' as if they are divergent parts of ourselves we are implying that work is the stuff that is hard and unpleasant, but absolutely necessary, and that it is not a part of our life, but something separate," said Ms. Graham.
"I am part of a number of groups, both on and off campus, that work towards social justice, whether that means economic justice, environmental justice, or human rights. These activities are a high priority in my life because I know that good things can't grow out of a society that has major economic disparity, a planet that is dying, and a culture that treats some human lives as more valuable than others. What most people call 'work' (including my own academic research) always takes second place to doing things that promote social justice and things that make me a better human. My days are not about fitting my 'life' around my 'work', but rather making sure that my 'work' fits with the goals and intentions of my 'life.' After all, if our 'work' is not helping to make the world a better place, then why are we doing it?
Become a graduate student at Memorial. Apply online today!