Living and learning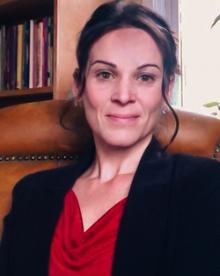 Dr. Ellyn Lyle began her career in secondary English classrooms before tackling a series of educational advancements that led to a career in academia and her current role as dean in the Faculty of Education at Yorkville University.
Where are you originally from?
Prince Edward Island
Why did you choose Memorial for graduate studies?
Lifestyle; my son was five at the time and I had offers from MUN and OISE.
What was your degree program and area of specialization?
PhD (Education)
Why did you choose this area of study?
I have a deep-seeded belief in the importance of education and, as often as I tried to pull it out by the roots, it always grew back.
How would you describe your experience as a graduate student at Memorial?
The experience of living/working/studying in Newfoundland and Labrador was rewarding, in general.
What were some of your accomplishments during your graduate degree?
I was working full-time as well as studying so my energies were divided between studies and applied work in the field. I am most proud of the applied projects as they had real world impact for others but I was also research active and received my first international invitation to speak at a conference during that time.
Did you get a job directly after graduating?
I was gainfully employed during my degree but did transition to academia full time within about 18 months.
How did your graduate program help prepare you for your current job?
I have a more mature appreciation of some of the opportunities for improvement that our collective student body identified during our residency together. I like to think I am also more approachable and inclusive as Dean with regard to polyvocality in program development and faculty governance.
How did Memorial help to get you where you are today?
Although I was in my early 30s when I did my PhD, I feel like I grew up a lot in NL, both personally and academically. It's hard to be surrounded by so much raw wonder and not develop an appreciation for living heartfully.
What advice do you have for current and/or future graduate students?
Listen to your inner teacher; s/he is wise beyond our appreciation.
Become a graduate student at Memorial. Apply online today!