Happy Dey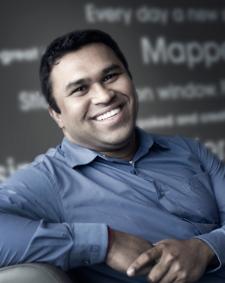 Rajib Dey, a geotechnical engineer/consultant with Stantec Ltd. and a Memorial graduate, has journeyed a long way to get here. As a young man growing up in Chittagong, Bangladesh, he was always fascinated by large scale infrastructure and how it sustained itself. His first step was an undergraduate degree in civil engineering from Bangladesh University of Engineering and Technology. From there, he left his home in 2009 with a plan to pursue graduate studies at Memorial. Seeing only opportunities, he took advantage of all that graduate school had to offer, accumulating personal and academic achievements along the way. Today, with a PhD under his belt and a successful career in progress, he feels right at home in his adopted city of St. John's.
Why did you choose Memorial for your graduate degree?

Initially I didn't know much about Newfoundland or Memorial, truly speaking – in fact I had never even heard of Newfoundland! When I started applying for graduate school in Canada, one of my friends told me that the engineering program at Memorial was good. I did more research and found outstanding reviews about the geotechnical engineering program at Memorial and the outstanding facilities here, such as the world-class centrifuge at the Centre for Cold Ocean Resources Engineering (C-CORE). There is incredible progress happening at the Faculty of Engineering and Applied Science in recent years in areas such as geotechnical engineering, ice engineering, offshore oil and gas engineering, oceans, information and communication technologies, and energy and mining sectors. These areas have attracted many international graduate students like myself.


Tell me about the program you completed at Memorial.

I completed my PhD in Civil (Geotechnical) Engineering in the Faculty of Engineering and Applied Science. I initially started as a master's student and later enrolled in the PhD program. I've been fortunate to have Dr. Bipul Hawlader as my primary supervisor from Memorial, as well Dr. Ryan Phillips from C-CORE and Professor Kenichi Soga from the University of Cambridge. These individuals are globally renowned experts in the field, so it's been an incredible experience. I've had an opportunity to work on my dream research in geotechnics and have been able to connect with researchers from other institutions working on similar topics, which has inspired and motivated me in my own work. And I've worked closely with other professors and faculty at Memorial who have mentored me throughout graduate school.


How was the overall experience of graduate student life at Memorial?

I enjoyed being a graduate student for many reasons. It didn't mean that I did not have any personal life or any time for fun. Research was definitely my first priority and I had to work hard for that, but I also made time for family and friends, a social life and for sports and games to stay fit. I've also enjoyed exploring the local culture and community and getting involved with other organizations and activities. I represented Memorial at national and international conferences; I was the president of the Teaching Assistants' Union of Memorial University of Newfoundland – lots of different things outside my studies that would help me de-stress and where possible, provide some benefit to the wider community. I strongly believe in work-life balance. I always like to remember this quote: 'Never get so busy making a living that you forget to make a life.'


What about living in St. John's? How has that transition been for you?

The city where I grew up is located in southeastern Bangladesh on the banks of the Karnaphuli River between the Chittagong Hill Tracts and the Bay of Bengal Ocean. To me, there is a similarity between St John's and my home city as they both have hills and are surrounded by ocean. Overall, I really like living in St John's because I have so many good friends. People from here are very lovely and helpful, and Newfoundland is one of the most colorful provinces in Canada with its own accents, culture, tradition, food and time zone. And I really enjoy exploring the beautiful places this province has to offer.
On the downside, the weather is of course unpredictable and sometimes hard to digest, and of course I miss family and friends and the beauty and traditions of my home country.


How did your graduate program help prepare you for your current job?

It has prepared me in many ways. The research facilities at Memorial are world-class and have expanded significantly in recent years, and have great support from industry and other organizations. Memorial does an excellent job of collaborating and partnering with communities, industry and all levels of government, which makes the quality of the programs and research that much better. I got the opportunity to work on my dream research in geotechnics with experienced faculty and staff, mentor high school and undergraduate students in various engineering projects, train graduate students in the research group, and teach undergraduate engineering courses. All these activities helped me to learn as well as enrich my technical, supervisory, presentation and leadership skills. I believe the entire experience has prepared me for the work I'm doing today.


What happened after you completed your PhD? Did you start working right away?

I started working immediately once I submitted my PhD thesis for examination. I was able to find work right away on a special project with the City of Mount Pearl that was involved with the city's underground infrastructure. Currently I'm working for Stantec Consulting Ltd. This involves various small to large scale projects and a range of duties. What excites me most is the work/research that I do on complicated, real life challenges involved in the practice of geotechnical engineering. Finding solutions to these problems is one of the most important components in the development or maintenance of any project.


Do you have any advice for current and/or future grad students?

Here are few tips: Do your best to pursue quality research work and always stay tuned for updates on the latest findings in your research area. Try to develop interpersonal and leadership skills, and build a wide network. And make sure you take breaks, it's so important to maintain work-life balance.

In the end, Memorial is an excellent place to apply for a graduate program, explore various world class facilities and accomplish your dream research.
Become a graduate student at Memorial. Apply online today!