Getting down to business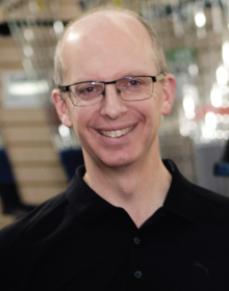 Greg Pope graduated from Memorial's bachelor of commerce co-op program in 1990 in the area of accounting. His interest in a more rounded (diversified) business education led him to return to Memorial on a part-time basis to complete a master of business administration in 2000. He believes that his experience as a graduate student was so rewarding because he had gained so much work and life experience between degree programs. He would suggest that others take time between programs as well – as just as much learning happens between students as it does between professor and student.

Why did you choose Memorial for your graduate degree?

During my undergraduate program I was focussed on meeting all of the requirements for pursuing a Chartered Accountant's designation. I did all of my work terms with Touche Ross, which has since evolved into Deloitte, and wanted to ensure that I had completed all of the credits available and expected for someone entering that profession.
Doing so, however, meant that I did not have time in my course load schedule to learn more in other areas of business that I was interested in, such as marketing and different aspects of human resources. Taking the step to explore other areas that interested me led me to the front steps of Memorial. Our business school had tremendous professors in those areas, including Dr. Jim Barnes, who I was eager to learn from. Even with the benefit of some work experience, exploring these areas with some of the most inspiring professors allowed me to enjoy returning to the classroom and certainly benefitted my career in the long run.


Tell me a bit about your experience as a graduate student at Memorial.

Initially, the excitement of returning to school as a graduate student was also accompanied by a number of mixed feelings. It had been seven years since finishing my undergraduate degree and I was going back to sitting in classrooms in a building that held so many remarkable memories for me. Not only were my classmates different from those I had spent four years with, but many life experiences had happened over those few years. I got married and started a family, and had a lot to look forward to professionally. I had completed my designation, changed employers, and moved into the private sector. It didn't take long for me to realize that I had something to offer to class discussions, as did my new classmates based on their own experiences. The result was that my graduate student experience at Memorial was far beyond textbook learning; it was an opportunity for expanding my own horizons well beyond accounting and finance and into a much broader business environment.


What were some of your accomplishments during your graduate degree?

Finishing it! I was working with NewTel during my studies and as I was nearing the end of my MBA program I was promoted to a senior role in the newly-merged Aliant organization. I suddenly found myself with a team spread throughout Atlantic Canada and travelling much more than I had previously been used to. I recall at one point sitting on a plane at 6AM in St. John's trying to finish an assignment that was due shortly after I would land in Halifax. Fortunately my flight was on time and the assignment was submitted just before the deadline. For added stress, I also had a four year old and two year old at home, so let's just say that I was forced to hone my organizational skills during those days. It was crazy.


What are you doing now after having graduated with your master's degree?

It has been an interesting and fulfilling journey since graduating in 2000. My career has not only welcomed new and exciting opportunities, but it's taken me places—literally. My family and I have now lived in four different provinces. Today I am the Chief Financial Officer of Golf Town Limited and reside in Oakville, Ontario. I've been with the company for about a year, having most recently been CFO of a Toronto-based IT company for six years prior. From an academic perspective, I recently completed the Institute of Corporate Directors program through Rotman to help me better support my board and enhance my performance when sitting on the other side of the table.


How did your graduate program help prepare you for your current job?

I pursued my MBA to broaden my perspective and enhance my business acumen, so that I would be able to contribute in more ways than accounting and finance. Today, my role is to work with other members of the executive team to help lead Golf Town as a sustainable and profitable company in a rapidly changing retail environment. I also lead a finance team where I consistently commit to fostering a learning environment of shared knowledge and ideas that drive high-performing associates—a few extra things I learned while at Memorial.

The experience I gained while earning my MBA prepared me with the right tools and insight to navigate a challenging road most bricks and mortar stores in Canada are on as eCommerce becomes more pervasive. My MBA was critical in helping me learn to contribute in a broader business setting earlier in my career and helped prepare me for eventual promotion into the C-suite.


How did Memorial help to get you where you are today?

Memorial was instrumental in helping me build a foundation for the career success I have enjoyed to this point. It is difficult to realize how strong Memorial's business programs are as a young undergraduate student; looking back, it set a solid foundation for me to build from as I was able to supplement classroom learning with real-world experience and later, my graduate studies. The other aspect is the superb network you develop, particularly in the co-op undergraduate program. When you are in it every day, your classmates are friends and people you just see at school daily; upon graduation everyone embarks on their own career path and into all aspects of society, and they become successful in their own right. I remain in regular contact with a number of my undergraduate classmates, both personally and professionally, almost 30 years later.


Do you have any advice for current and/or future grad students?

My strongest advice would be to approach your graduate program, regardless of discipline, differently than your undergraduate degree. When doing an undergraduate program, it is similar to grade school and the only method people know for learning: one directional, from the professor to the student. A graduate program is different, with students benefitting from group discussion and the knowledge of their peers, not only the professor. The whole is truly greater than the sum of its parts. That is why I am a firm believer that graduate students should have at least two years of work experience before starting his/her program; it allows him/her to offer learnings for the benefit of others, just as he/she will benefit from everyone else.
Become a graduate student at Memorial. Apply online today!