Degrees of freedom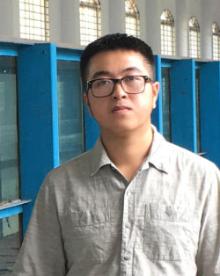 Yang Zhang, a PhD graduate from the Department of Physics and Physical Oceanography in the Faculty of Science at Memorial University, studied marine science during his undergraduate degree and was interested in continuing his education in that area, specifically in laboratory studies.
As he searched for a graduate program in North America, Memorial University's geophysical fluid dynamics lab caught his eye. With a flexible schedule and a strong mentor, the PhD program in physical oceanography was just what Dr. Zhang was looking for. During his time at Memorial, he scripted idealized models and published his results in industry journals; he also celebrated the birth of his son.
Many universities in China have reached out to Dr. Zhang due to the unique and specialized background Memorial University has granted him. He is currently working as a lecturer at Guangdong Ocean University.
Why did you choose Memorial for graduate studies?
When I was considering oversea education programs, I was initially attracted by the nice pictures from the oceanic/atmospheric fluid dynamics lab at Memorial University.
What was your degree program and area of specialization? Why did you choose this area of study?
It is a PhD program in physical oceanography with a focus on rotating tank experiment. I was educated in marine science and had been interested in laboratory studies in this area.
How would you describe your experience as a graduate student at Memorial?
The Department of Physics and Physical Oceanography offers a free academic atmosphere and casual schedule. I finished four graduate courses in the first year and had enough time to develop my own interests in numerical techniques. Sometimes in the middle of the night, I would drop by the office to start testing my idea.
As a graduate student, I learned a lot from my supervisor, Dr. Yakov Afanasyev. He is a clear-minded physicist, with sharp instinct in geophysical fluid dynamics (GFD); an experienced lab experimentalist with educated eyes in detecting wave patterns; and a productive visual artist. He taught me lab techniques, paper writing skills and how to properly defend my submission.
What were some of your accomplishments during your graduate degree?
I taught myself some fancy numerical techniques, scripted a few idealized models, and published some results from both the numerical and lab experiments in good journals. My son was born in the third year of my PhD.
Did you get a job directly after graduating?
I worked as a post-doc in the lab after graduating and then accepted a faculty position from Guangdong Ocean University.
What is your current job? How did your graduate program help prepare you for your current job?
I am a lecturer in Guangdong Ocean University, Zhanjiang, Guangdong, China. My background in experimental study of geophysical fluid dynamics strengthens my academic profile.
Tell us a little bit about your most recent research?
I was on board a cruise for one month in the South China Sea. The survey aims to catch some details at the perimeter of an oceanic mesoscale eddy (200 km in diameter, and was visualized from satellite in advance), where the smaller filaments are rich. These small structures are of great interest to oceanographers because they contain strong velocity in both horizontal and vertical directions, thus have significant biological influences on the fishery. During this survey, we deployed CTD, ADCP profiles, and TurboMap, which measures the mixing/sharing rate, in the top 500m.
How did Memorial help to get you where you are today?
As the research funds expand towards marine-related disciplines, I have received several offers from universities in China. They are looking for GFD lab experimentalists to enrich their research diversity and I happen to have such a background thanks to Memorial's PhD program.
What advice do you have for current and/or future graduate students?
Newfoundland is a unique and beautiful place, a paradise for hikers, painters, and iceberg/whale lovers. Studying at Memorial University gives additional degrees of freedom to enjoy the magnificent landscape of the big rock and the hospitality of local people, as well as to broaden your academic spectrum. It is important to have a clear mind about what you are doing and where you are going as a graduate student.
Become a graduate student at Memorial. Apply online today!