Coast to Coast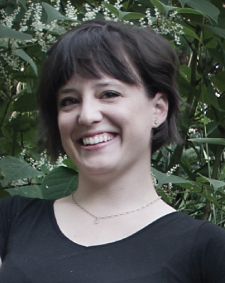 Growing up on Long Island, New York, Brittany Palm-Flawd spent her childhood summers surf-casting for striped bass on Montauk Point. There, surrounded by three bodies of water – Long Island Sound, Peconic Bay and the Atlantic Ocean – Brittany developed a deep fascination with the ocean and everything in it.
Brittany would go on to foster that fascination by earning a Bachelor's degree in Marine Biology from the University of New England, and then a Master's degree while working as a fisheries biologist.
For her doctoral degree, Brittany chose Memorial University because it offered her the opportunity to study anadromous fish species, expanding her research scope with freshwater systems, and to experience living in a new country. What she didn't expect was the opportunity to live in two new countries.
Just before the start of her research at Memorial, Brittany learned she'd been selected to receive a Fulbright award, giving her the opportunity to spend a year doing research in Ireland. Although the news was good, the timing was unfortunate. She worried about having to choose between pursuing her PhD with supervisor Craig Purchase of Memorial's Department of Biology, and this momentous career-boosting opportunity.
However, Dr. Purchase worked with Brittany and the Fulbright sponsors to find a solution that allowed her to spend five months doing research in Ireland before returning to St. John's to join Dr. Purchase's fieldwork during the busy season.
Delighted, Brittany joined the Galway Institute of Technology in December 2014, where she analyzed Atlantic salmon ecology and migration patterns in a collaborative venture with Ireland's Marine Institute.
Upon returning to St. John's in June 2015, Brittany resumed her work with the Dr. Purchase. The experience she gained in Ireland with the help of Dr. Purchase would go on to influence the direction of her research at Memorial.
A committee that includes the Department of Biology, the Department of Ocean Sciences and the Department of Fisheries and Oceans Canada supervises Brittany, with her research being co-sponsored by the local non-profit Salmonid Association of Eastern Newfoundland (SAEN). Through SAEN, Brittany engages with the public, educating them about salmonid conservation.
"As a graduate student, I find it important for there to be a direct link between my research and the public community. The opportunity to work directly with different departments at Memorial, the federal government, and two public groups offers the type of collaboration that promotes applicable science."
There's no denying graduate school is hard. When salmon are spawning, Brittany may work up to 20 hours a day. That level of commitment to research is intensive and can be overwhelming. Brittany insists the key to work-life balance is working towards something you're passionate about and carving out time to remain social. Brittany takes advantage of events hosted on-campus by groups like the Biology Graduate Student Association. She finds it easier to make friends and maintain a social life with groups of like-minded individuals living a similar lifestyle.
As for passion, she has plenty of it. It's what drives her to push her work and herself forward. Despite being incredibly busy, she's already planning where her career will go next. "Ultimately, I aspire to be a research professor at a university like Memorial. I enjoy lecturing and working with students as well as conducting research."
Become a graduate student at Memorial. Apply online today!