Calling the shots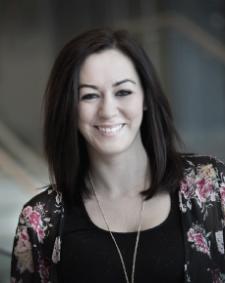 Being able to work full time while completing a master's degree is the best of both worlds and current graduate student Sarah Messervey is doing just that. A St. John's native, Ms. Messervey decided to attend Memorial to complete a bachelor of science degree, but her initial plans took a turn when she was accepted into the nursing program in 2005.
Upon completion of her undergraduate degree, Ms. Messervey began working as a registered nurse and continued to do so for the next three years. In 2012, she decided to enrol in the master of nursing program under the supervision of Dr. Caroline Porr in the School of Nursing.
"I wanted to go back to further my career options in the future," said Ms. Messervey. "I always considered advance education and having your MN (master of nursing) opens up more doors in terms of the nursing positions you can obtain."
The best part of the master of nursing program is that it can be completed entirely online and through part-time study. This provides working professionals with the opportunity to continue working full time, while completing their degree on a part-time basis. Online programs allow students to complete courses without having to attend on-campus classes and at times that do not interfere with their work schedules.
Through Memorial's Centre for Innovation in Teaching and Learning, online students complete courses via a web-based learning management system called Desire2Learn (D2L). The D2L system allows students to submit assignments, take tests, give presentations, email professors, participate in group chats and view grades all from one platform.
"It allows me the flexibility to work full time and maintain an active social life, but with the same academic support that I would expect if I was to complete my program on-campus," explained Ms. Messervey, who also serves on the Graduate Studies Committee as the master of nursing student representative.
Juggling a full-time job while completing a master's degree requires a lot of determination and dedication but Ms. Messervey encourages students to take the leap. "Graduate programs are challenging," she explained. "You need to have a solid background in writing and well developed study habits before starting a graduate degree, but I would recommend graduate studies to anyone. Advanced education is always an asset!" Following completion of her master's degree, Ms. Messervey hopes to obtain a nursing position where she's able to utilize her advanced education and would like to teach someday.
Become a graduate student at Memorial. Apply online today!