Ambition without borders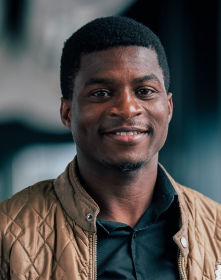 Timilehin Oguntuyaki's interest in geology was sparked by a national tragedy in Nigeria. Now he's researching how minerals might be used to mitigate climate change.
Timilehin Oguntuyaki remembers the newspaper article that changed his life. He was a student in his home state of Osun, Nigeria, and studying for an exam when a headline caught his eye. Several villages in Zamfara state had suffered a shocking outbreak of lead poisoning. The lead came from artisanal mines and had contaminated the soil and water supplies in the area. Over a period of months, 400 children died.
At the time, Timilehin found this tragedy difficult to process. "Reading that newspaper was devastating for me," he says. He couldn't understand how a natural blessing like water could become a poison. And he wanted to know how a mineral like lead could be dangerous. That's how his fascination with geology started.
"I think of that newspaper article as a way of taking me forward," he says.
His own path
Timilehin decided to study applied geology at the Federal University of Technology in Akure. While most of his classmates were working to enter Nigeria's lucrative oil industry, Timilehin's interest in environmental science focused on preventing future disasters.
This vision would ultimately lead him on a 20,000-kilometre journey from Akure to Vancouver to St. John's.
In Vancouver, Timilehin completed his master's degree after receiving a Mastercard Foundation Scholarship at UBC. Now he's working on his PhD at Memorial. His current research concentrates on using mining by-products to sequester and mineralize atmospheric CO2. He's using natural chemical reactions to convert CO2 into safe, solid and stable mineral carbonates.
"What the US Department of Energy calls this is 'growing minerals,'" he laughs, "so it could be called mineralization, carbonation, sequestration. All of these, they are different terms, but essentially it begins by capturing CO2, which is sequestration, removing it from the atmosphere, and then mineralizing it, meaning reacting it with nearby reactive minerals to produce carbonate."
Timilehin came to Memorial because Newfoundland has an abundance of ultramafic rock, which he needs for this research. And when the weather is wet and windy here, he says, the conditions are perfect for his fieldwork.
Along with the natural environment, Timilehin has found a supportive atmosphere at Memorial as well. "I've got a really good supervisor at Memorial. We have always kept the lines of communication open. I know this person wants the best for me. I knew the research was the best for me. I knew it perfectly aligned with my life goals."
The good life
When asked about Dunsin, his wife, Timilehin smiles. "She has always been part of the story," he says.
They started dating in 2012 and were married in 2019. Their wedding photo is framed on the living-room wall. They are beaming with happiness in the picture, and they look proud of each other. Now they have an active three-year-old son and live in a quiet suburb in the west end of St. John's.
"At home, I spend time with my family. I'm not someone who goes out a lot, but I enjoy my time in my space with my family."
But with summer approaching, Timilehin admits there is one thing that does get him out of the house. "I enjoy playing soccer a lot. Almost every weekend, I'm out there playing soccer," he says. "I think I was led to come here to enjoy all the good things of life."
Making a difference
While he's determined to make the world a better place, Timilehin stays grounded. "This heroic mindset of trying to save the world and all of that, you know, you can't do that, but you can start from somewhere," he says. "I found this research at Memorial as a meaningful way of doing something tangible."
Though his research no longer focuses on lead, he knows his work is important. "I'm studying something that is much more bigger than lead," he says, "because CO2 concentration in the atmosphere is borderless. All the CO2 being emitted in the US or in Canada – people in Africa will feel it. People in Asia will feel it. Everybody is going to feel it."
With an increased sense of optimism, Timilehin adds, "If we can try to devise means of getting the concentrations down, everybody is going to feel the benefits as well."
Become a graduate student at Memorial. Apply online today!