Computer Science
Why Computer Science @ Memorial?
Virtually every discipline - practical, theoretical, or creative - experiences the influence of computers today. The ever-increasing dependence on computer technology in our daily lives presents rich opportunities for those interested in the design of new applications and systems. Computer Science - the science of computing - provides a solid and rigorous foundation on which such systems and applications can be built. At the same time, computer science has a large potential impact on interdisciplinary collaboration. Whether your passion is to help fight global warming, uncover the secrets of the human genome, create intelligent robots, bring history alive through mobile apps, prevent terrorism, understand human social phenomena, play the stock market, create digital art, improve health care, or invent the technologies of the future, computing is central to these and most modern endeavors.
Memorial's Department of Computer Science has grown significantly over the last decade, both in our faculty complement and our graduate student numbers. Since 2003, 50% of our new faculty hires are women, and our Master's and PhD programs have quadrupled over the same period. For the next decade, we aim at becoming one of the most innovative and vibrant Computer Science departments in Canada. Memorial University offers a wide range of computer science programs, all of which are intended to be challenging and dedicated to the evolution of Computer Science.
Description of programs
MSc – The MSc program has three route options – research oriented thesis route, a work term route, and an all course route. The work term option is particularly suitable for applicants who intend to gain work experience in the industry.
PhD – The PhD program involves courses, a comprehensive exam, and a thesis, and can be completed in four years of full-time study.
Contact a faculty supervisor
Graduate applicants interested in research-based programs are strongly encouraged to connect with a faculty supervisor at the time of application. Visit the Department of Computer Science website for a list of faculty members, their research interests, and contact information. You may also use the Yaffle search application to find a supervisor you may wish to work with.
The School of Graduate Studies offers advice on how to search for and contact potential supervisors. Need more help? Try attending one of our webinars and information sessions for prospective graduate students.
Minimum admission requirements
MSc – Bachelor degree (major in Computer Science or Computer Engineering) with a minimum average of 75% overall (international applicants are strongly encouraged to submit a valid GRE score report)
PhD – Master's degree in an appropriate area of study (international applicants are strongly encouraged to submit a valid GRE score report)
Potential career options and outcomes
Software developer/architect/programmer/engineer, mobile apps developer, computer systems analyst, web developer, data scientist, software quality assurance analyst, chief technology officer (CTO), product lead
Graduate student and alumni profiles
Our graduate students come from all parts of Newfoundland and Labrador, Canada, and the world. View the student profile below to learn more about what they do and why they chose Memorial.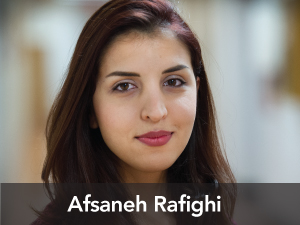 ---
Note: All figures are in Canadian dollars and subject to change. Fees are approved by the University's Board of Regents. In the event of a discrepancy between the fees approved by the Board and those published on this website, the fees approved by the Board will prevail. Financial policies are enforced through the Department of Financial and Administrative Services. For the complete and official list of all fees and charges, visit www.mun.ca/finance/fees/.
Program Information
Routes:
course, work term, thesis
Duration (Full-time students):
MSc: 2 years
PhD: 4 years
Application Deadline:
December 1 for Fall admission (all programs)

May 1 for Winter admission (MSc (course-based route))
Funding:
MSc (thesis route): $16,000
PhD: $20,000
Tuition (NL students):
MSc: $1,334-$2,000/semester
PhD: $888/semester
Tuition (Other Canadian students):
MSc: $1,334-$2,000/semester
PhD: $1,154/semester
Tuition (International students):
MSc: $1,734-$2,600/semester
PhD: $1,499/semester
Request More Information
Department Website
University Calendar
Apply