All Hands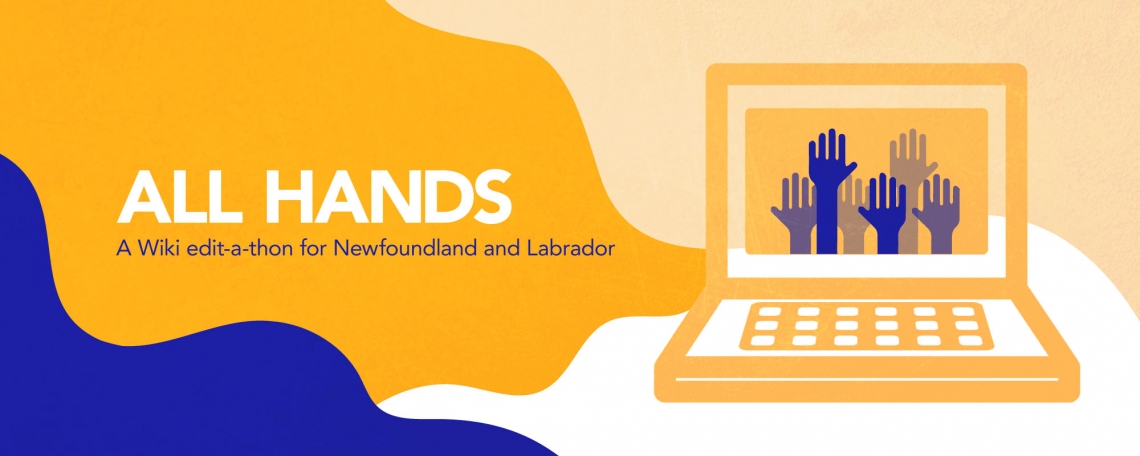 All hands on deck –
a command for all sailors to come to the deck of the boat to help navigate the storm
All Hands is an initiative for Newfoundlanders and Labradorians of all ages (and friends and fans of Newfoundland and Labrador) to learn how to create a Wikipedia account and to edit, create and reference articles about Newfoundland and Labrador.
A collaboration between the Newfoundland Quarterly and Memorial University Libraries, All Hands has been developed as a strategic way of enhancing and improving NL's online presence. We officially launched on June 15.
Over the next few months we will work together to showcase our province's history, our culture and traditions, our people and our places. Those who are unable to travel to NL this year will have the opportunity to visit through Wikipedia and educate themselves about the place we call home. In future visitors will have that much more information about Newfoundland and Labrador at their fingertips. And those of us who live here will benefit as well. Definitely a good use of all of this downtime.
We think that spending some time researching NL will also help our citizens recognize the resilience that NLers have shown throughout the various paradigm shifts already experienced in our history. Perhaps more than most other North Americans, we have pivoted in big ways before. And we can do it again.
Some examples of NL-themed subjects that current have no Wikipedia entry at all are: The Newfoundland and Labrador Folk Festival, the White Fleet, Leslie Harris, the Winterset in Summer Literary Festival, Rufus Guinchard, Anna Templeton, Reginald Shepherd, trigger mitts, Larry Dohey, Sound Symposium, Agnes Ayre, Otto Kelland, SS Bruce, Grace Butt and Tom Cahill.
Other NL-themed subjects that require additional citations for verification include Buddy Wasisname and the Other Fellers, Georgina Stirling, SS Kyle, Daniel Woodley Prowse, Ethel Dickinson, ugly stick, toutons, Fred Hayward and Bally Haly Golf & Curling Club.
Starting June 15, we will focus on a different theme each week to include people, places, traditions, arts & culture, history, and so much more. And each weekly theme will include suggestions for new entries or current entries that require additional info. A guest editor with specialized knowledge will be recruited for each theme. The guest editors we currently have lined up include Jenny Higgins (women), Dale Jarvis (folklore), Sandy Morris (music and musicians), Ruth Lawrence (theatre and film) and Todd Boland (flora and fauna).
We suggest everyone starthere, with a presentation created by award-winning writer and researcher Jenny Higgins. In this presentation, you'll find a background on Wikipedia, tips on setting up an account and details on how to edit entries.
Some key things to remember about Wikipedia are:
All articles should be written from a neutral point of view
All material must be attributed to a reliable published source
Original thought or research is not permitted
Avoid conflict of interest
As participants are currently unable to visit libraries, museums or archives in person, we have created a list of Online Resources with Newfoundland and Labrador Content that will allow you to get all the details you want about your chosen topic.
After you have registered with Wikipedia you will have access to additional online resources on the site itself.
We'd love to help keep track of your progress. Those interested can add their account details to our All Hands dashboard; this will allow your contributions to be tracked and help us determine NL's Wiki-pedian-in-chief (honourary title/bragging rights only!).
The Centre for Newfoundland Studies (QEII Library) provides an email reference service (cnsqeii@mun.ca) and welcomes all questions related to NL topics.
Newfoundland & Labrador Public Libraries also provide a reference service for their NL collection via email (reference@nlpl.ca).
If you have any questions, require further info or need help with your Wikipedia entries please contact allhandsinfo@mun.ca.
Got a question about your Wikipedia account or how to create an All Hands entry, add a citation or add your Wiki account to our Wiki dashboard?
Start a LIVE CHAT to answer your question.
Available 4 days per week (Monday to Thursday) from noon to 2 p.m. NL time.